EMPATHY IS THE CAPACITY TO UNDERSTAND OR FEEL WHAT ANOTHER PERSON IS EXPERIENCING FROM WITHIN THE OTHER BEING'S FRAME OF REFERENCE, I.E., THE CAPACITY TO PLACE ONESELF IN ANOTHER'S POSITION. EMPATHY IS SEEING WITH THE EYES OF ANOTHER, LISTENING WITH THE EARS OF ANOTHER AND FEELINGS WITH THE HEART OF ANOTHER.
​​​​​​​
This project is a collection of garments for refugees, created with the sincere wish to help them feel better in the awful circumstances they've found themselves in. The purpose of the collections is to make people feel more special, help them return their identities. All garments can be personalized and made unique by the particular person that will wear them. The key detail is a specially invented seam that is constructed by embroidering words that one wants to wear on their body for everyone to see or just for themselves. The words will hold the garments together the way they hold peoples' relationships.
The assembling of garments doesn't require any equipment or skill. In addition, all the materials used in the garments are upcycled and can be already found at the camps or in the vicinity. These materials are: used jeans and shirts that people donate to refugees, parts of life jackets used during the dangerous trip to Europe, thermal blankets.
Fashion industry is one of the cruelest industries both to its employees and to the environment. This projects' aim is also to show that things can be different.
The photographs were taken on Lesbos, Greece, the most beautiful island that happened to be on the front line of the refugee crisis.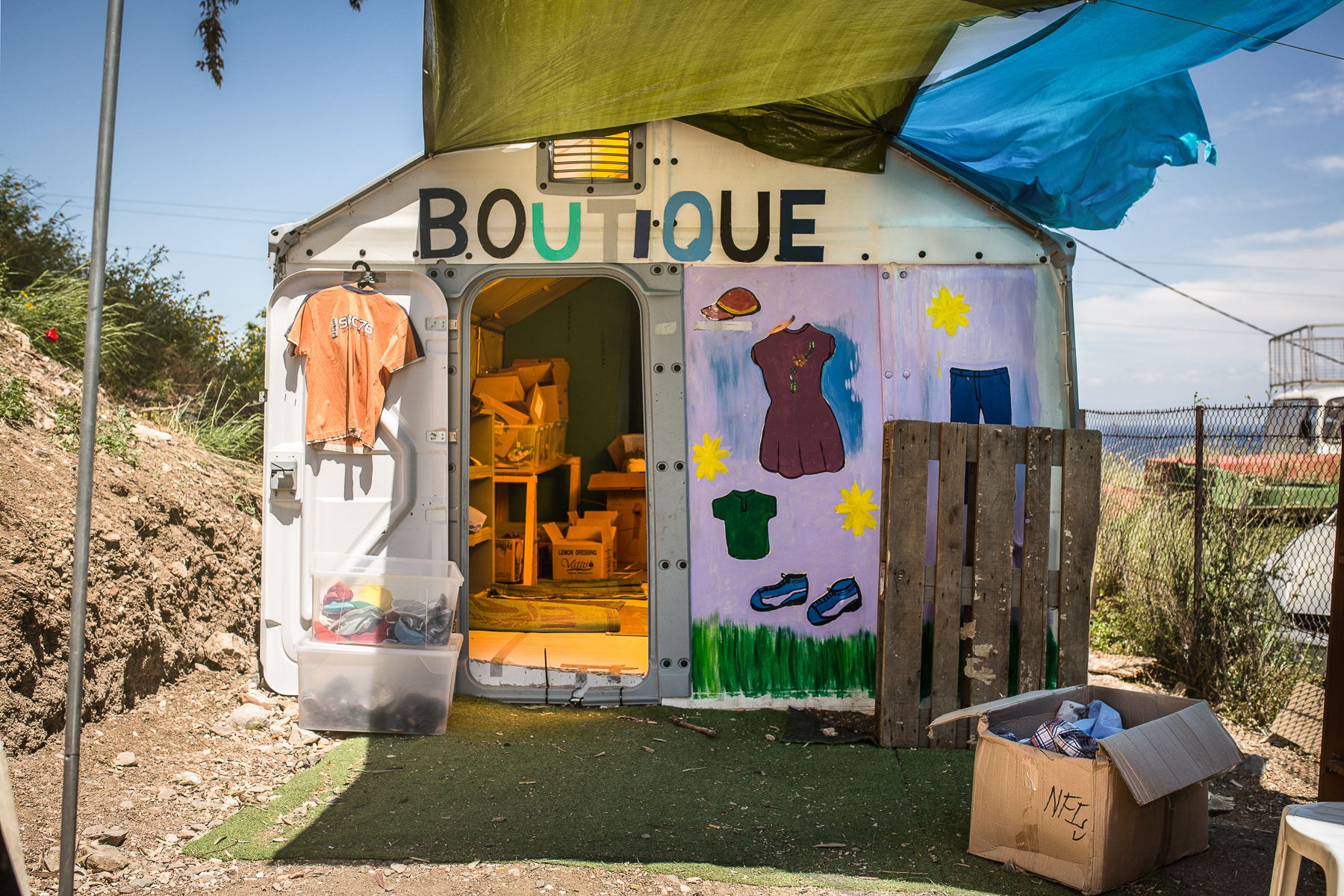 Improvised Boutique in 'One happy family' Swiss Red Cross community center.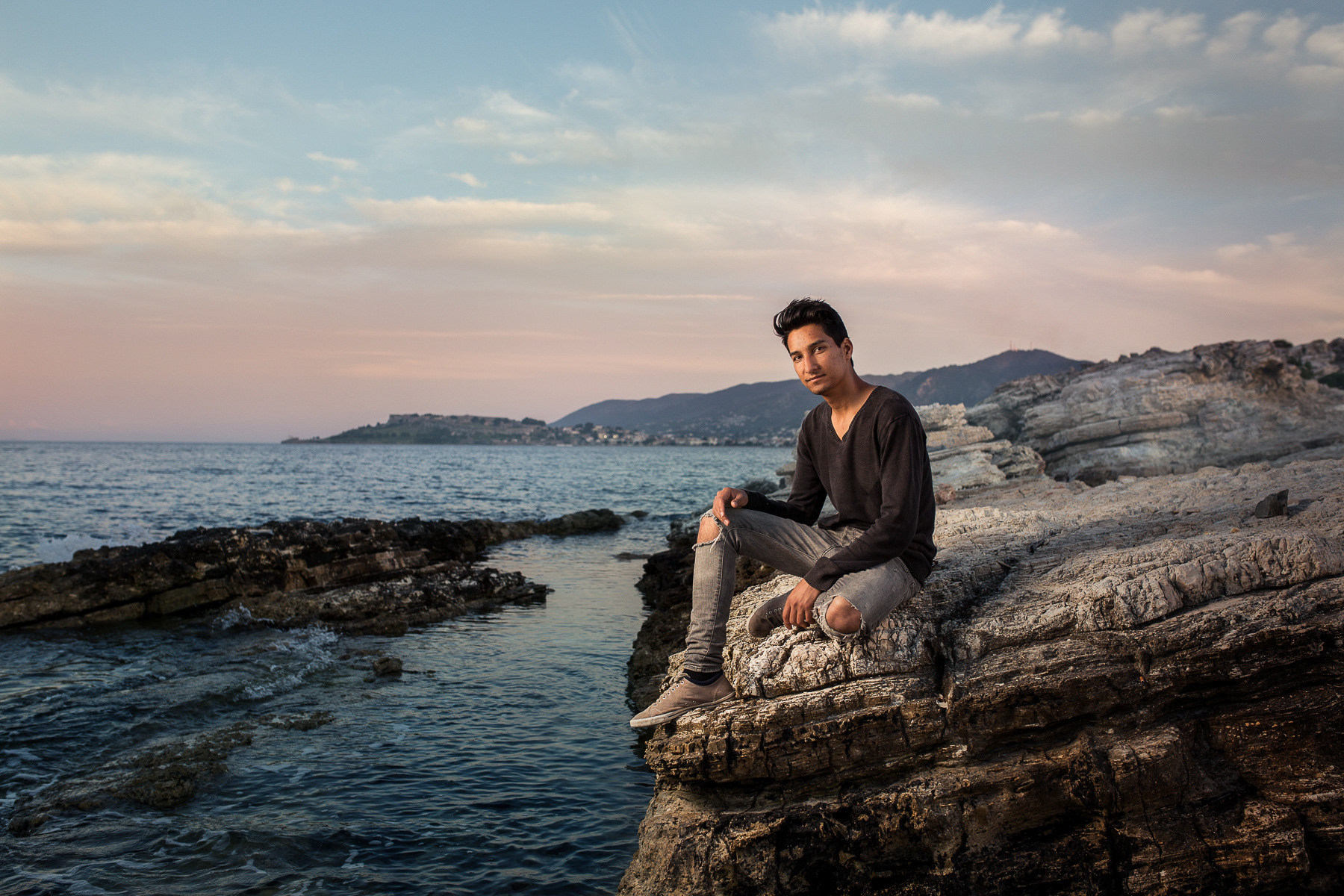 Beach near Kara Tepe refugee camp.
We tried to get from Turkey to Bulgaria. We walked three days and nights without food, we ate leaves from the trees. Then the police arrested us and beat us with a stick, but I couldn't even feel anything, I was too tired. They sent us back to Turkey.
We decided that my older brother would try to get to Greece first and my younger brother and I would follow in 10 days. We didn't want our parents to lose all of us if something bad happened.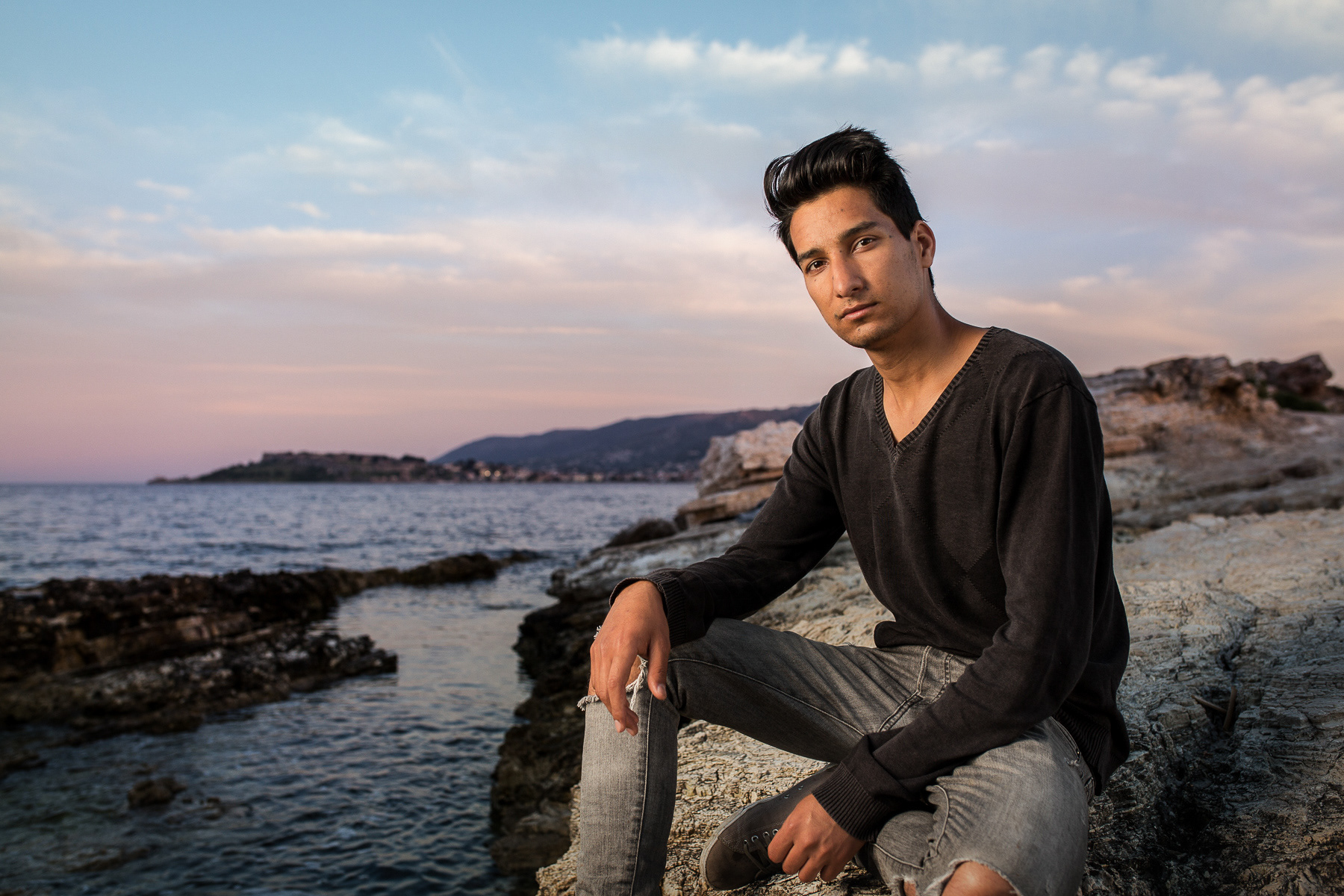 My brother and I paid 400 euro each to get into the boat to Greece. We bought life jackets for 40 euro. Later, volunteers told me that my jacket was fake. I don't know how to swim.
They put too many people in the boat. They had a gun on you and you had to go inside the boat. Our boat had a hole in it and it started to sink. We threw all our belongings out of the boat. We couldn't use the engine because of the water.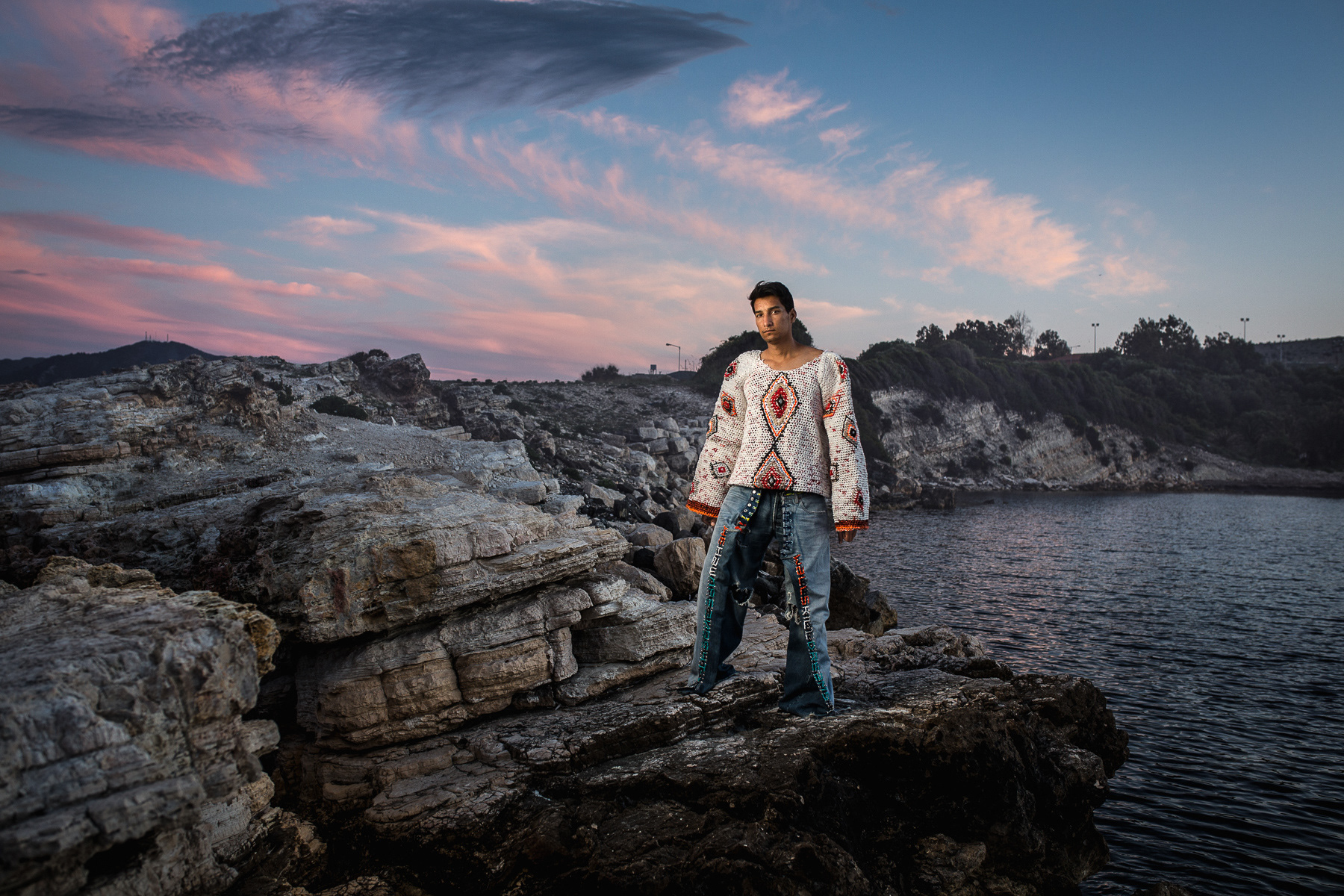 SWEATER

: plastic bags, life jackets, upcycled yarns, thermal blanket.


TROUSERS

: used jeans.
The boat taught me a lot. We were people from different countries: Africa, Pakistan, Bangladesh, Afghanistan, Syria, Iraq, we had different skin colors, different religions but all of us were equal in that boat. And when the boat started to sink everybody started to pray, even those who told me before that they don't believe in God. Because I know English I started to call the police, I was crying and asking them to save us but they didn't care. The water came up to my throat. I thought I was going to die.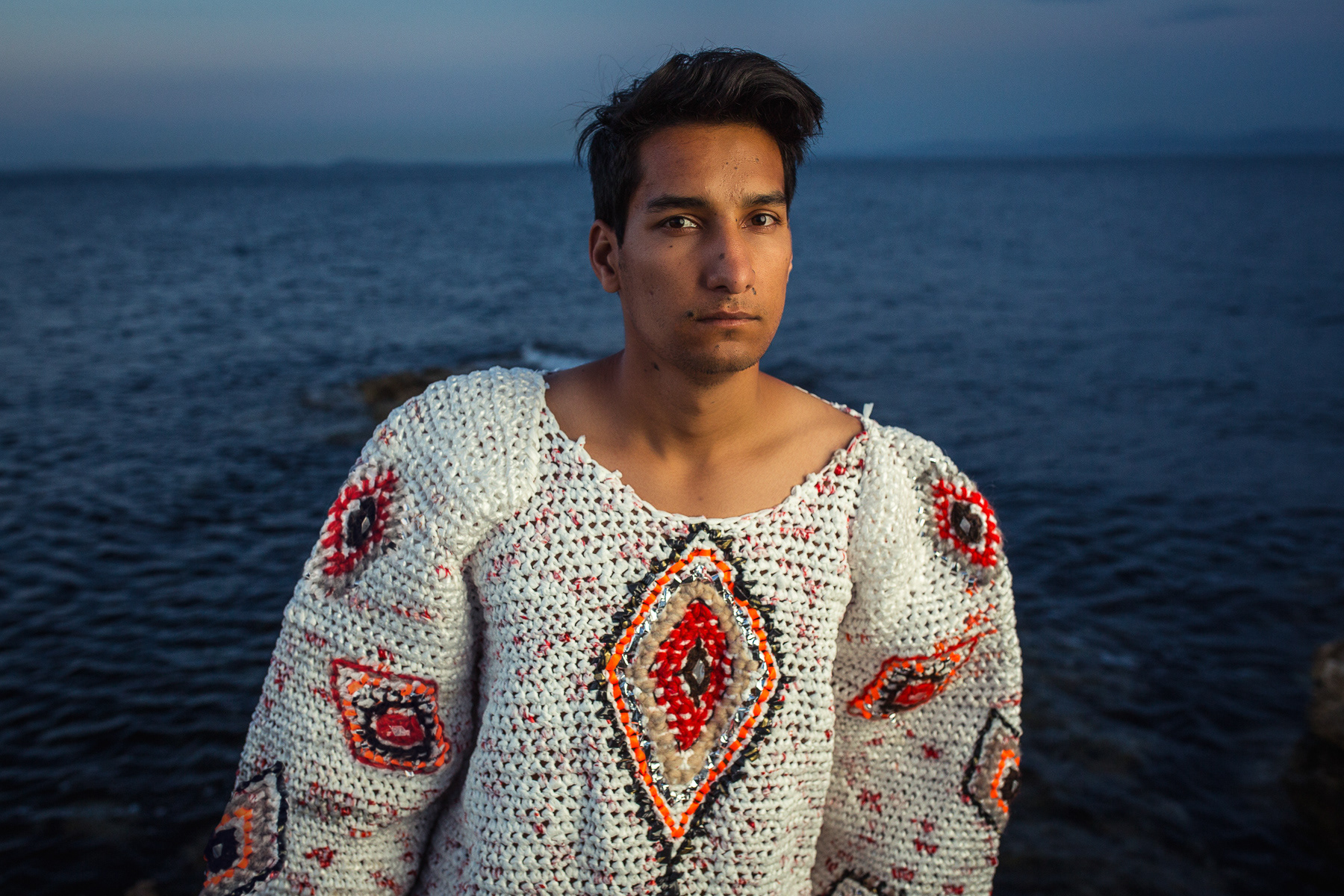 In seven hours our boat crashed to the shore. Everyone ran away and tried to hide. Because it was dark and we spent so much time in the boat not knowing which way we were going, we were not sure whether we arrived in Greece or returned back to Turkey.
We didn't believe volunteers who were shouting that we are in Greece and asked us to get out. Only after 40 minutes we saw the flags and realized that we were in Europe and we were safe. I thought I was in paradise at that moment.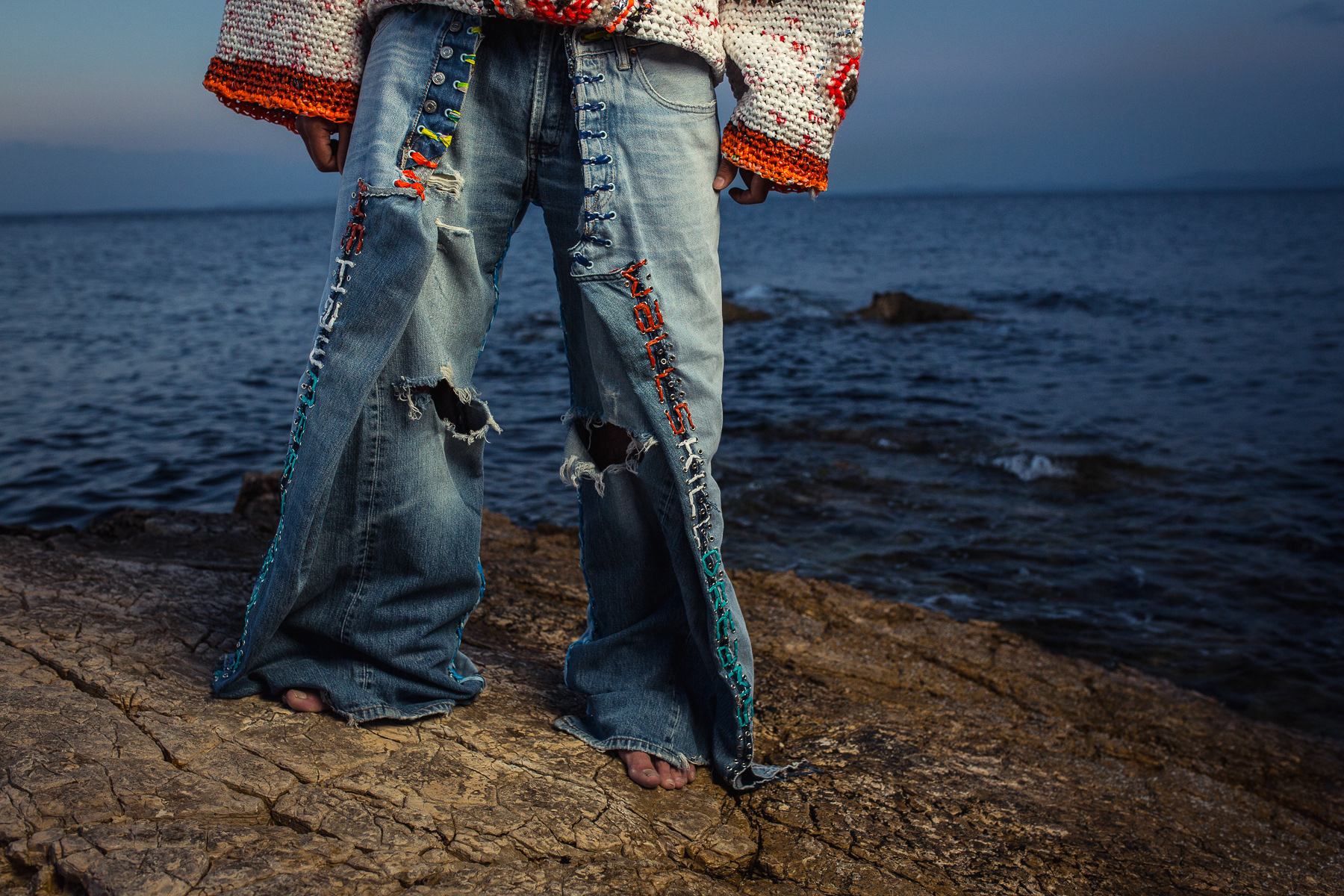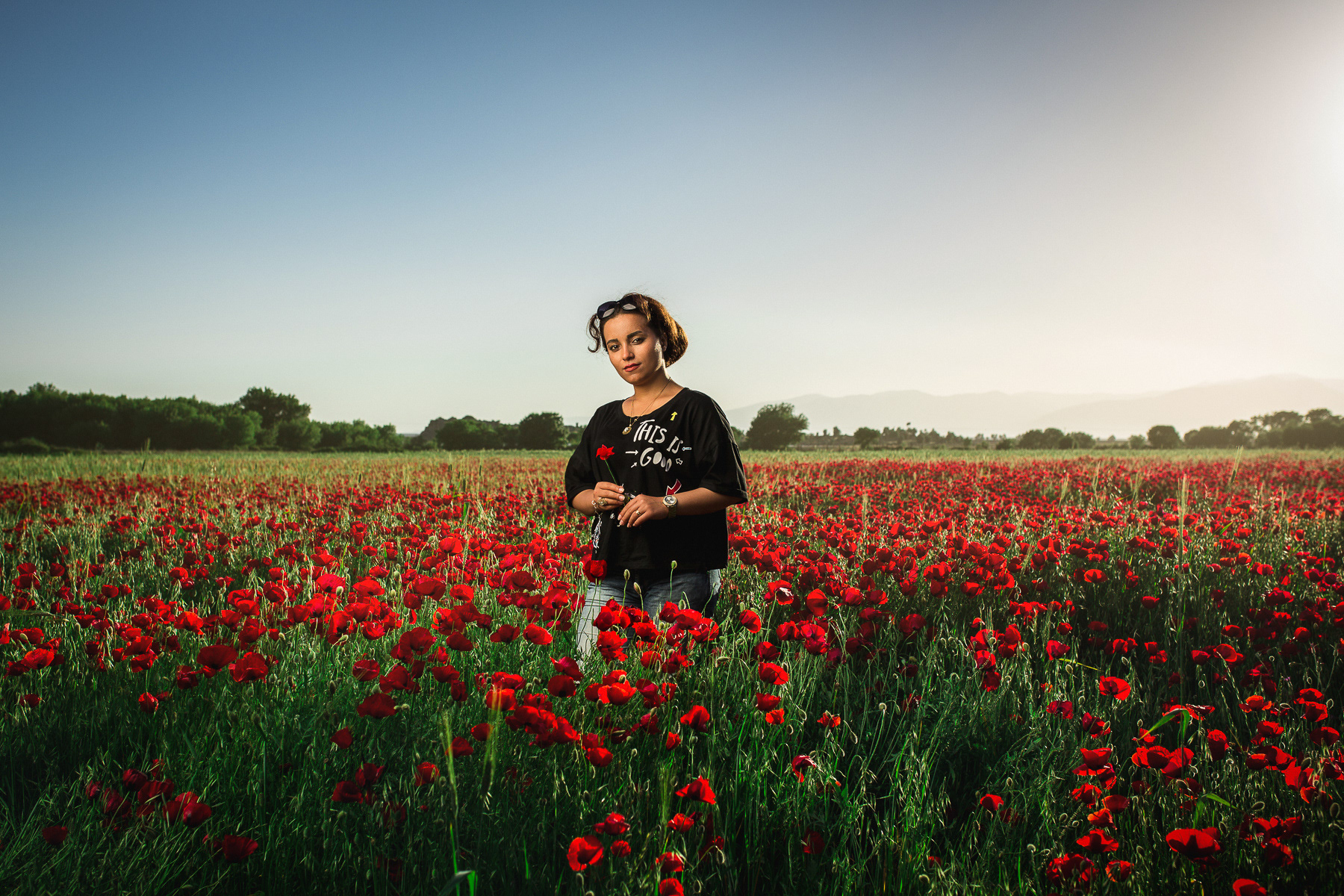 Poppy field near Ahladeri.
Because I have my asylum interview soon I can't tell much about my background.
My husband has problems with his heart and because of that we are staying not in the refugee camp but in an apartment in Mytilene. The apartment is close to the hospital in
case anything happens with my husband. An organization helping refugees rents the apartment for us.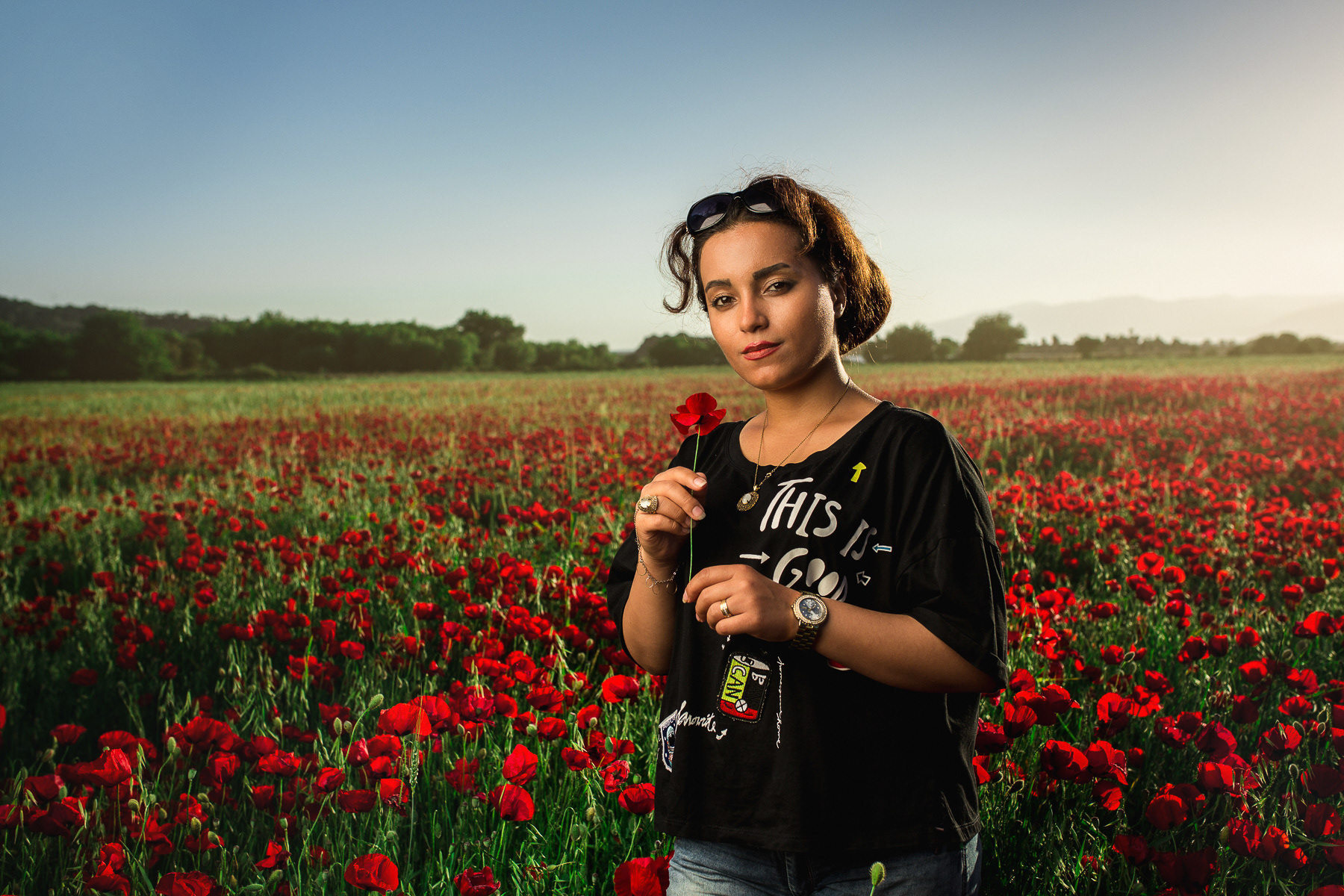 The food they give us is not enough, we have much less then we need. All refugees receive aid worth 90 euro per month. But we don't receive any money now because of economic problems, or because we stay outside of the camp.
To keep myself occupied I make decorations out of cardboard which is available at Swiss Red Cross. I also teach people to cook.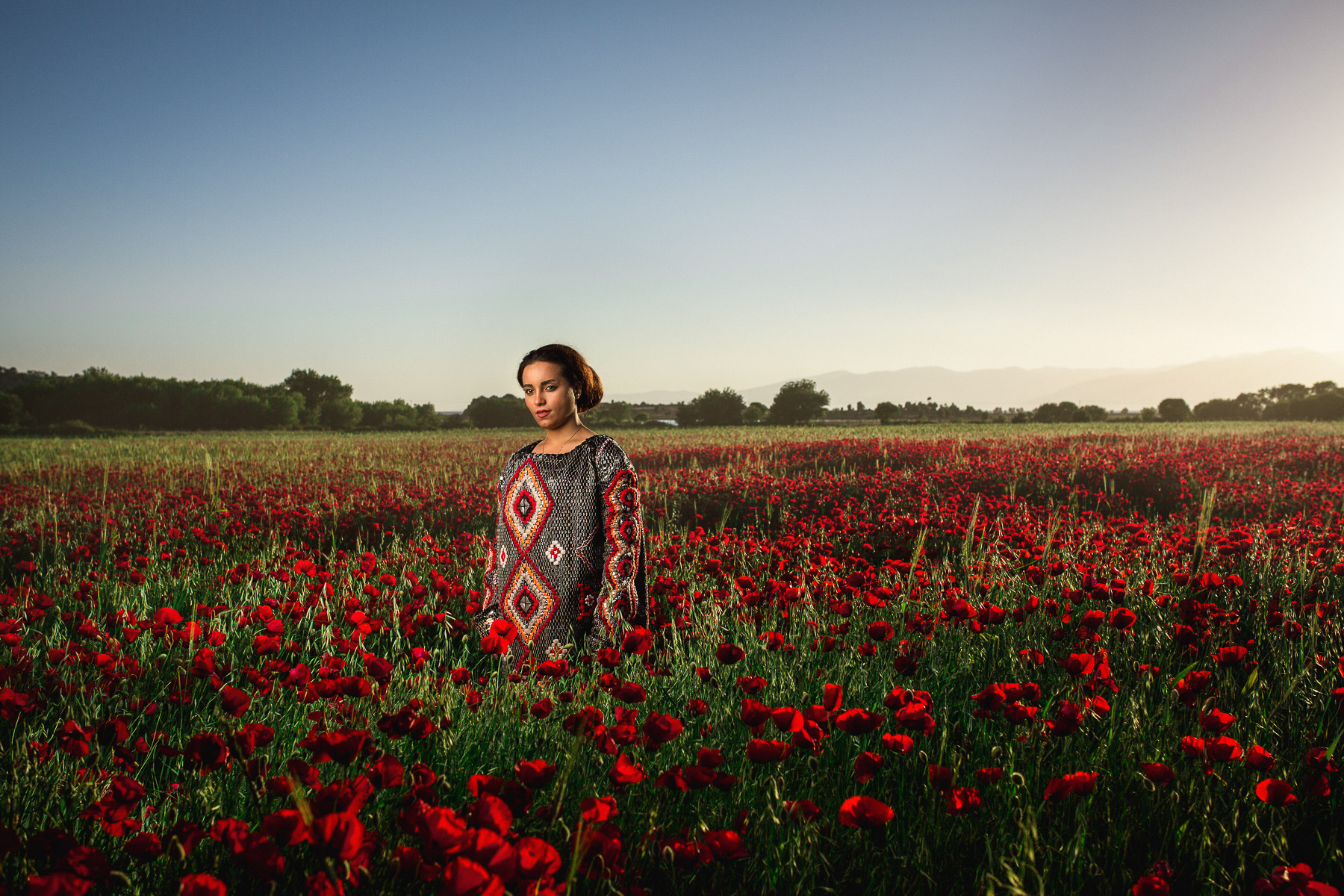 DRESS:

plastic bags, life jackets, upcycled yarns, thermal blankets.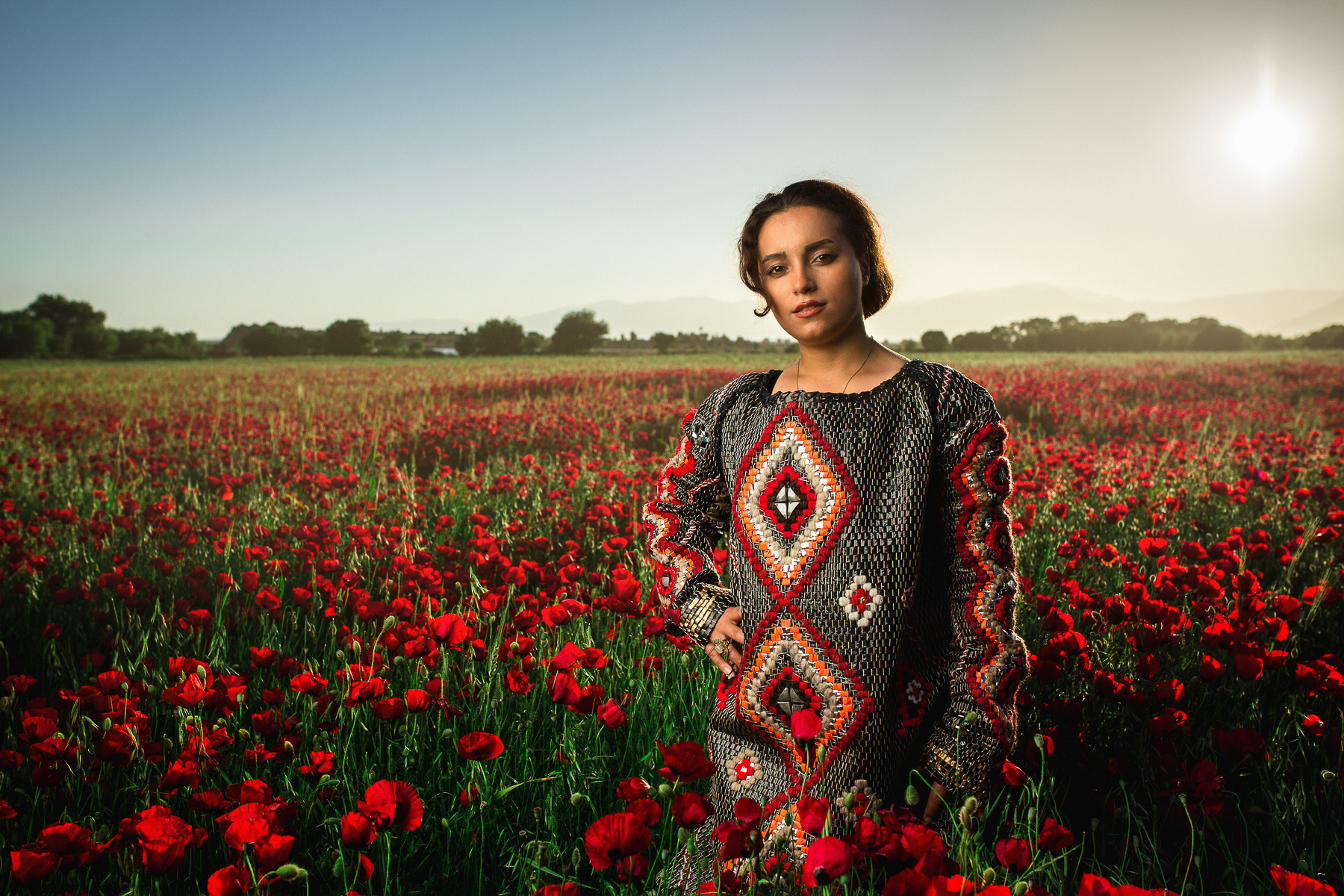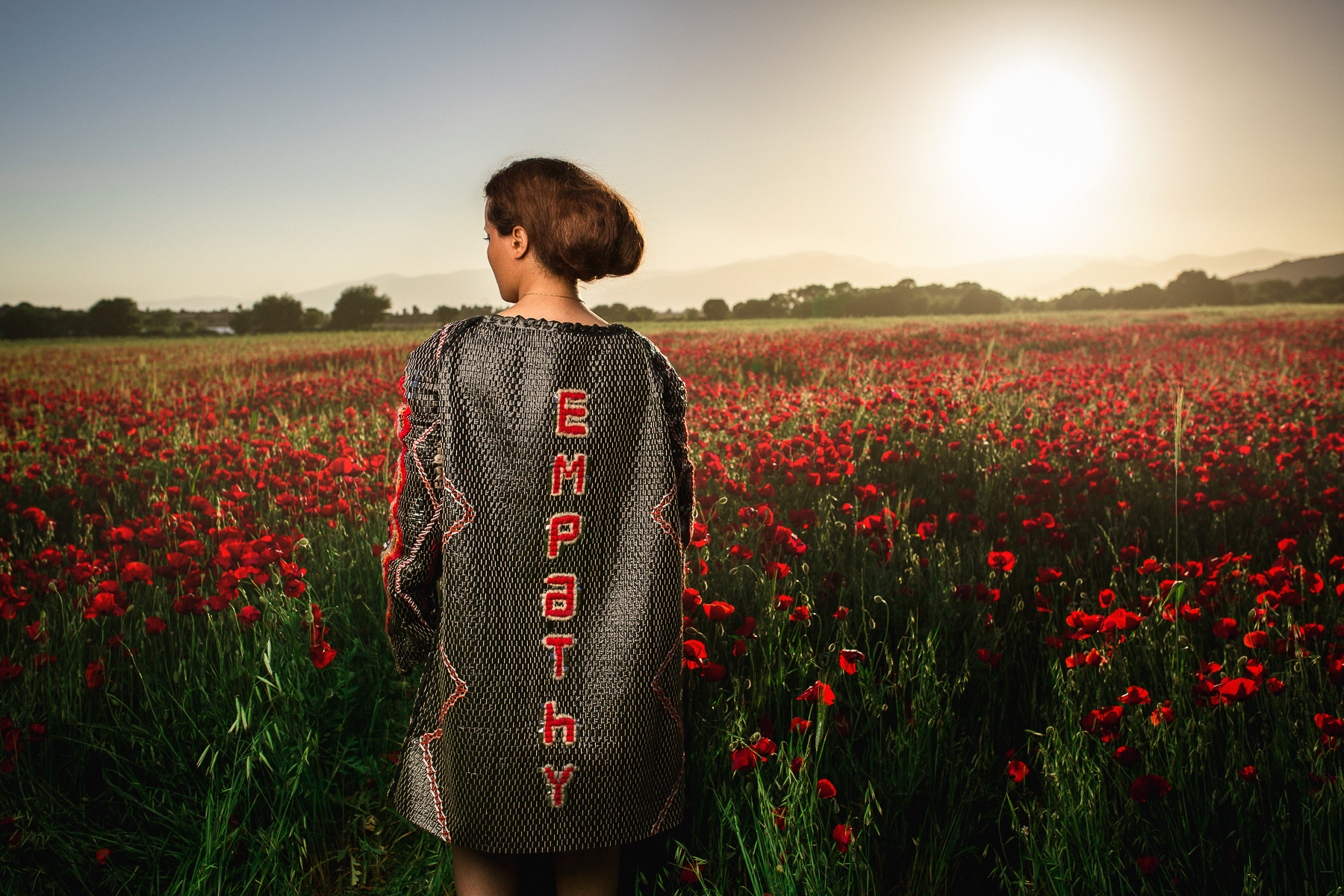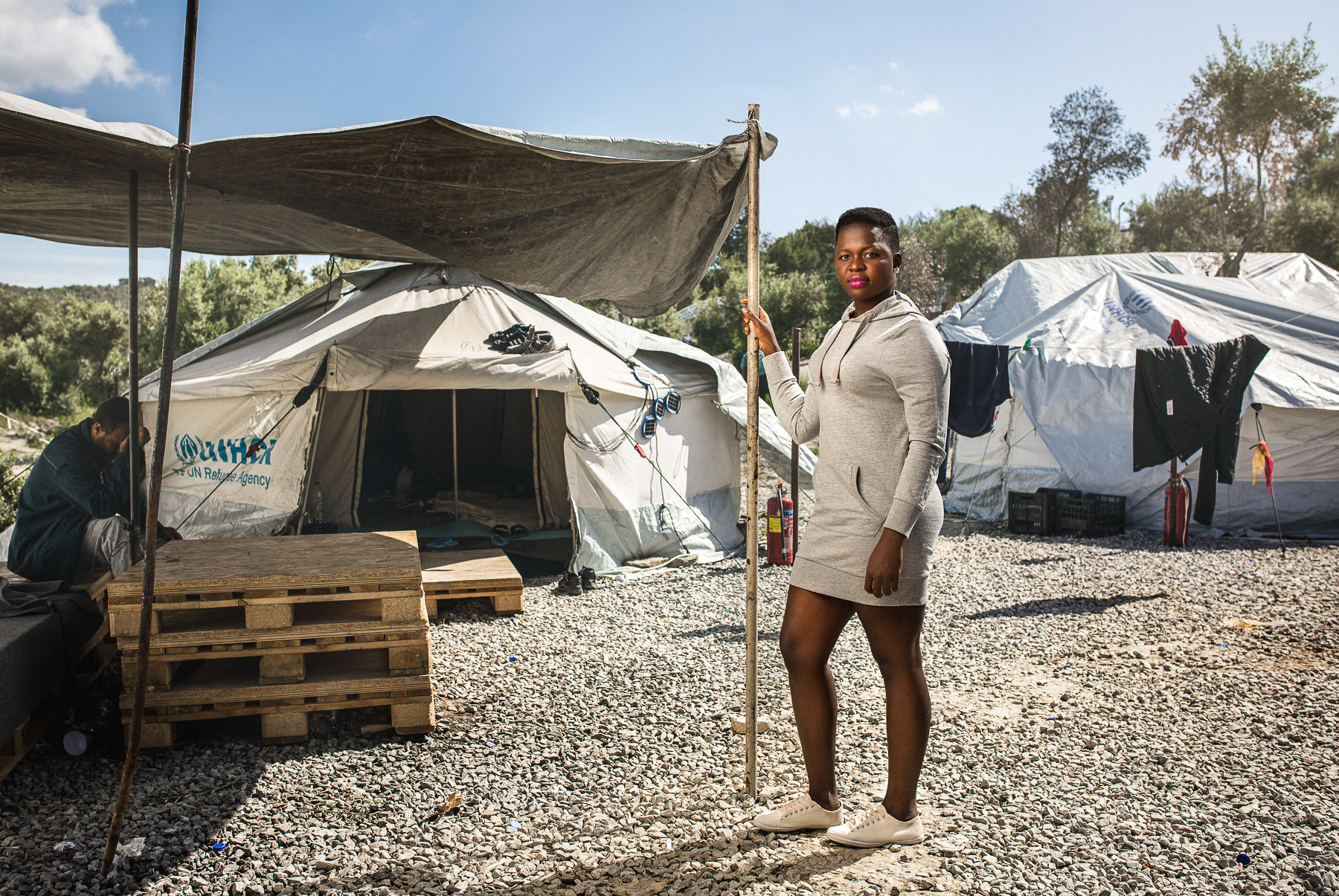 Olive grove — part of Moria refugee camp.
I came to Greece alone, all by myself. When you arrive to Lesbos they take you to Moria camp and you can't leave it for 25 days, it's a punishment for crossing the border illegally. The conditions in the camp are very bad, there are no facilities, there is no schooling.
I was a model back home. I want to continue being a model.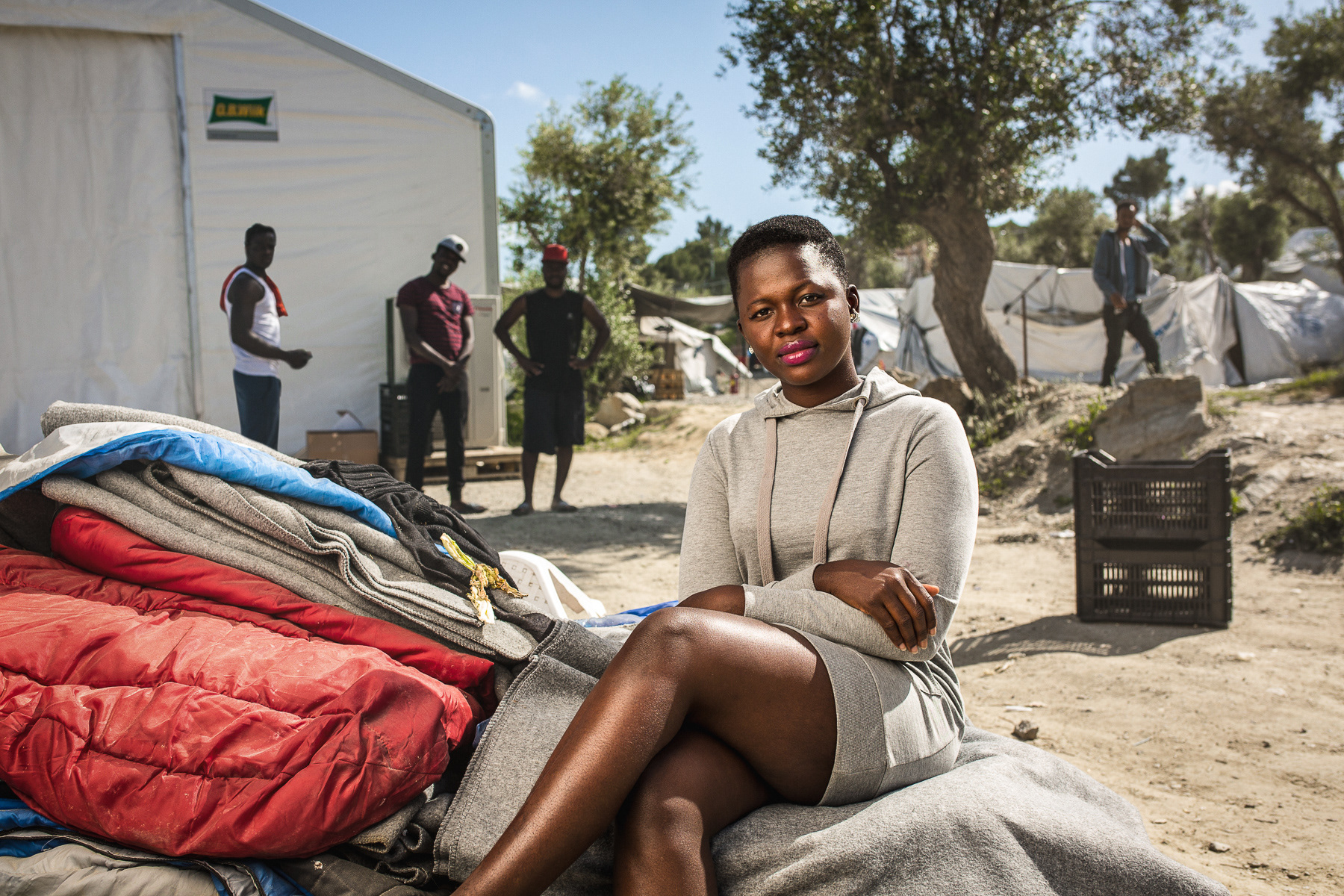 You need a tax number to be able to work, and the authorities have to give it to you, but they find different excuses to refuse doing it. 
The authorities gave me the blue card which means I have to go to Athens for my asylum interview. But they don't tell me when I can go. When you go and complain they just say
'wait, wait, wait.' You cannot do better than that.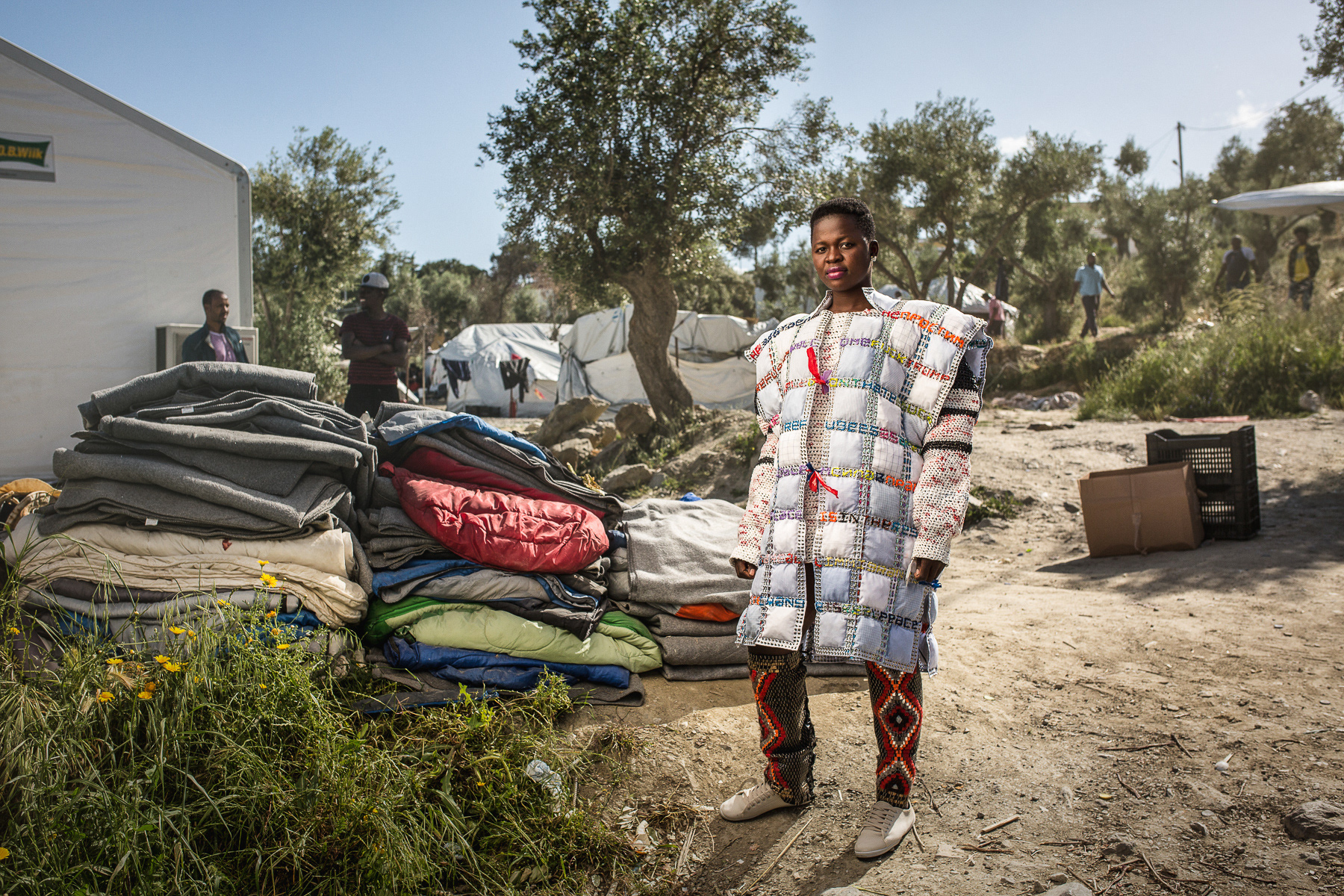 Sometimes you want to focus on doing something better in life, but you don't have an opportunity. You want to do better things but you feel rejected.
I don't believe someone will leave their country if they don't really have to. No one wants to become a refugee and be treated like that, this is crazy.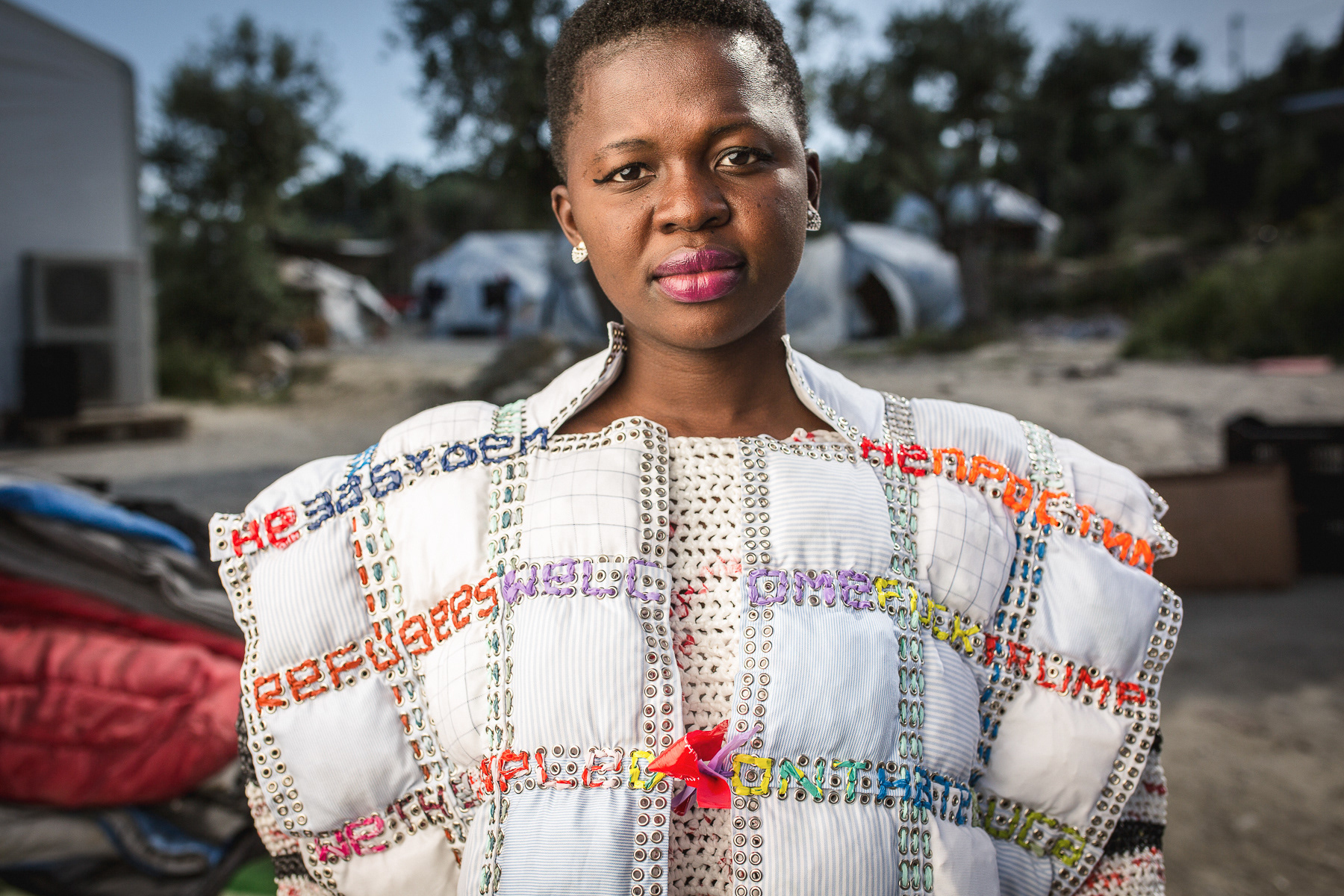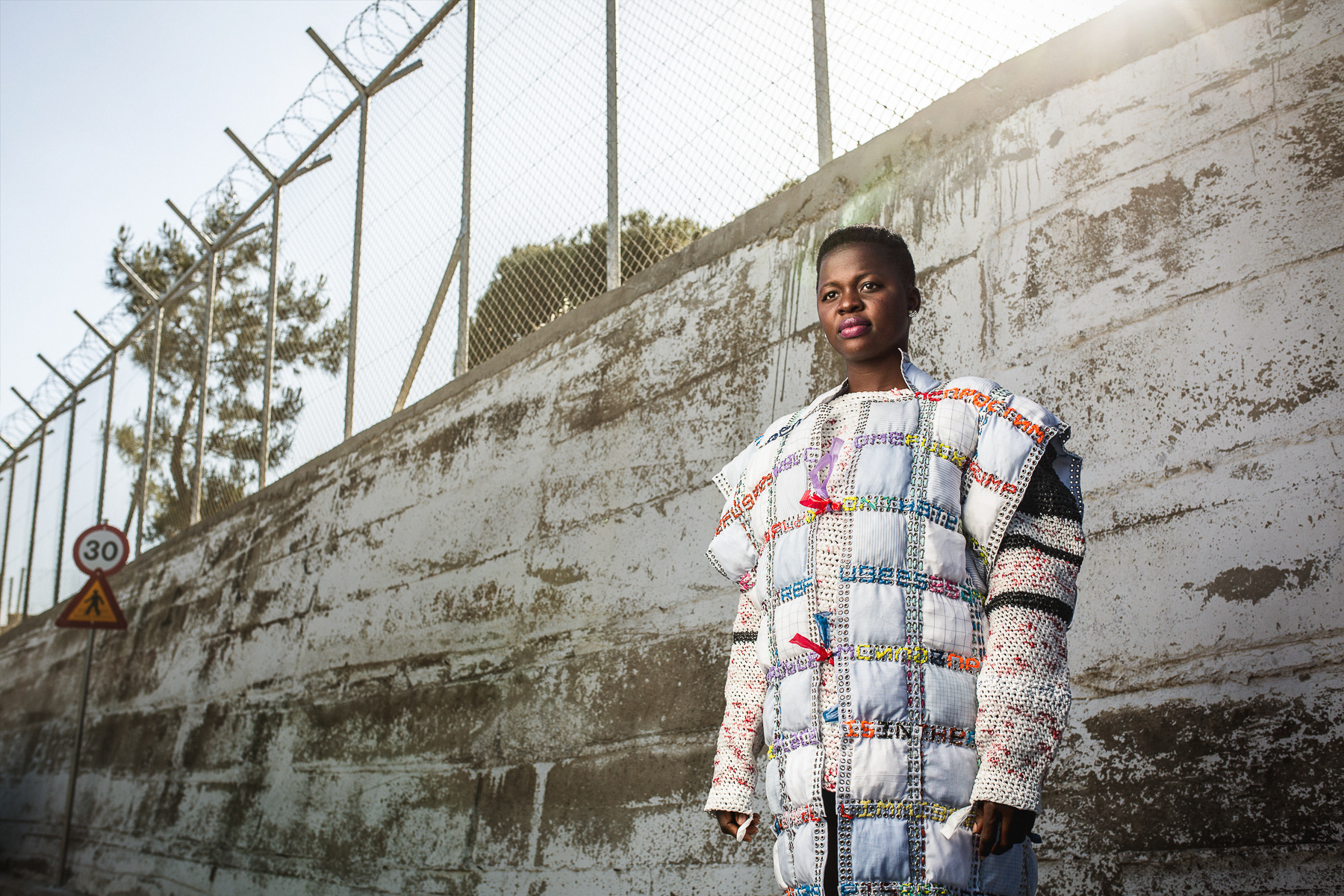 Wall of Moria refugee camp.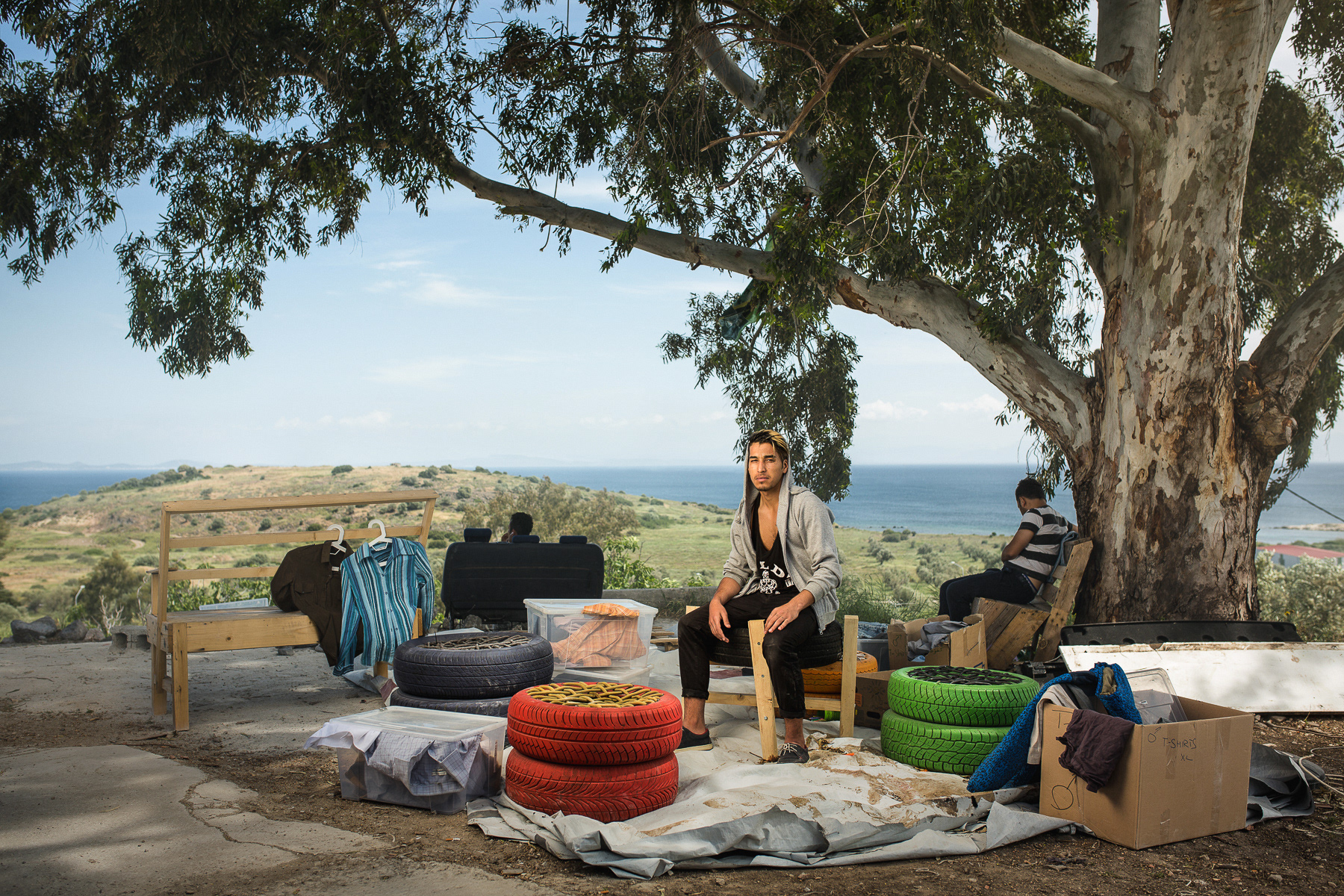 'One happy family' Swiss Red Cross community center.
When I arrived to Lesbos ten months ago, they took me to Moria camp. Life in Moria was very difficult for me because I had a very good life before. I couldn't go and stand in a line, I couldn't sleep in a tent at first.
I started to learn English and I learned basic English in two weeks. I try to learn every day how I can make my dreams come true. Every day I study for one hour, sometimes for one hour and a half. I know Farsi, Pashto, basic Arabic, Dutch, Spanish and Greek.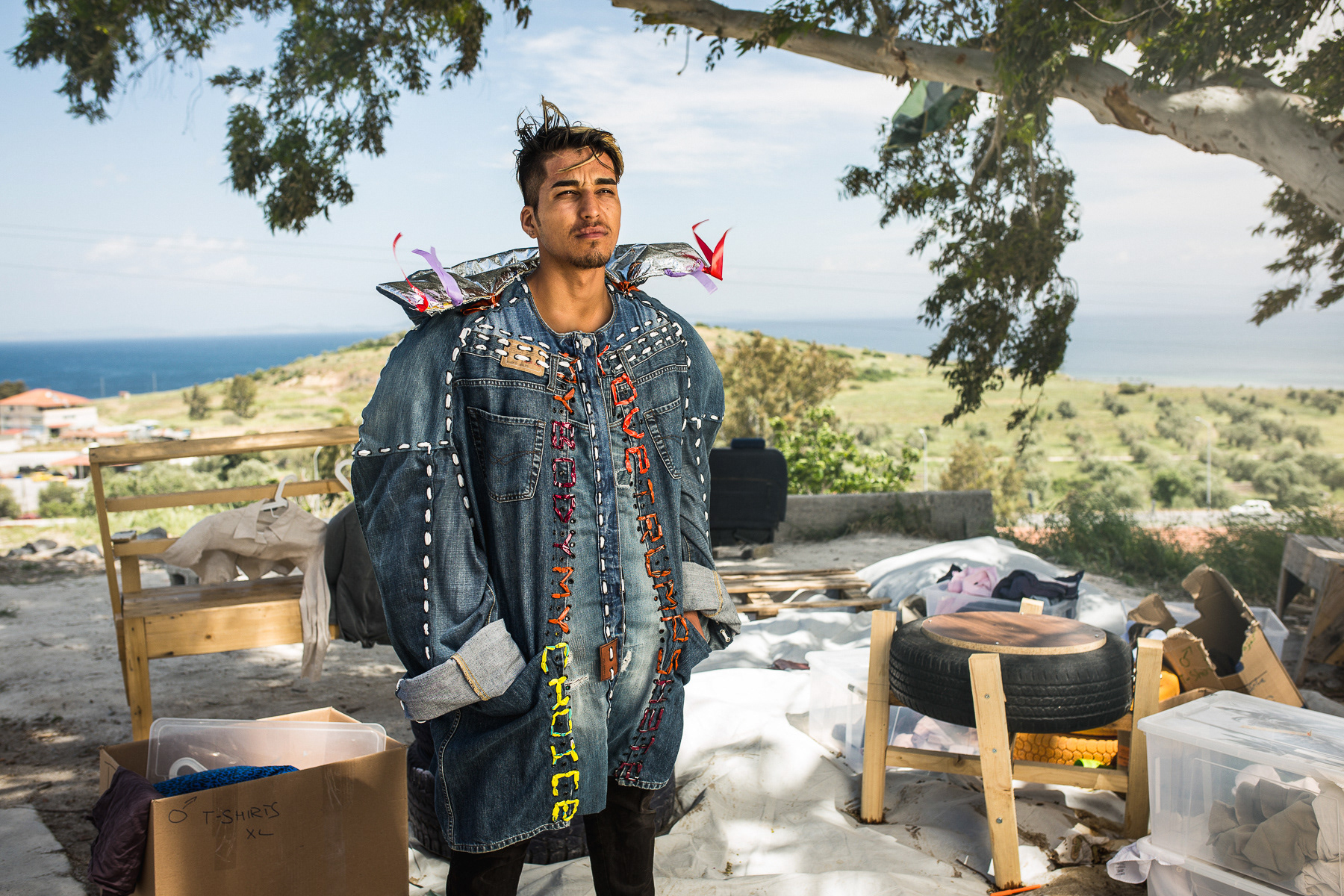 PARKA:

used jeans, plastic bags, thermal blankets.
I learn about rich people and how they became rich, I want to become rich too. I can't live like a poor person in this world, I want to be rich, famous. I want to be a singer or an actor. Right now I'm acting in my brother's short movie about refugees, we will finish it soon. I'm working hard every day to get my dreams to come true, I will try different ways.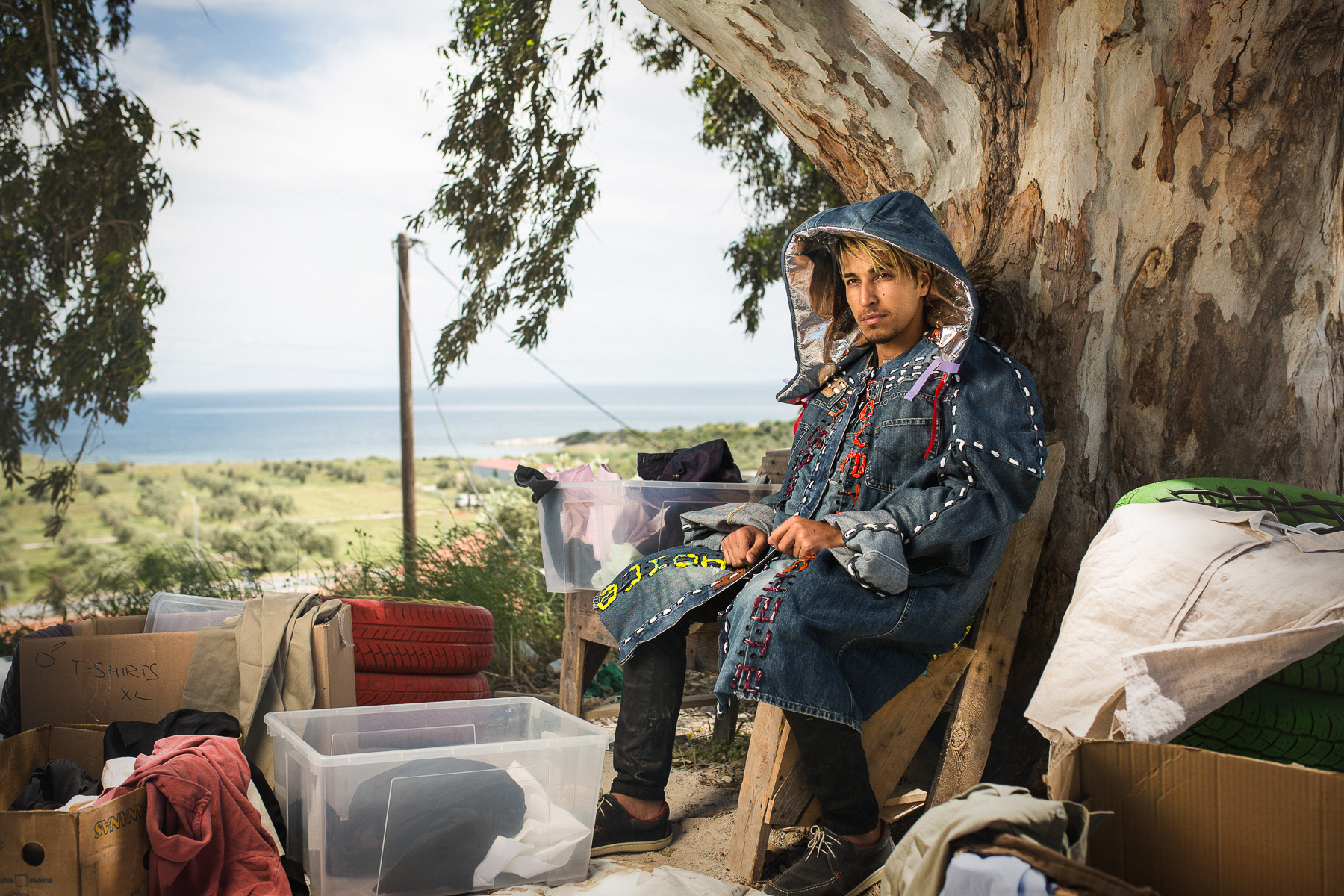 Life is not easy. Life is very hard for you if you are a refugee. I'm a refugee, I'm in a bad situation. As a refugee you fail every day, and you may just want to commit suicide. But if you are strong, you just stand and face a bad situation.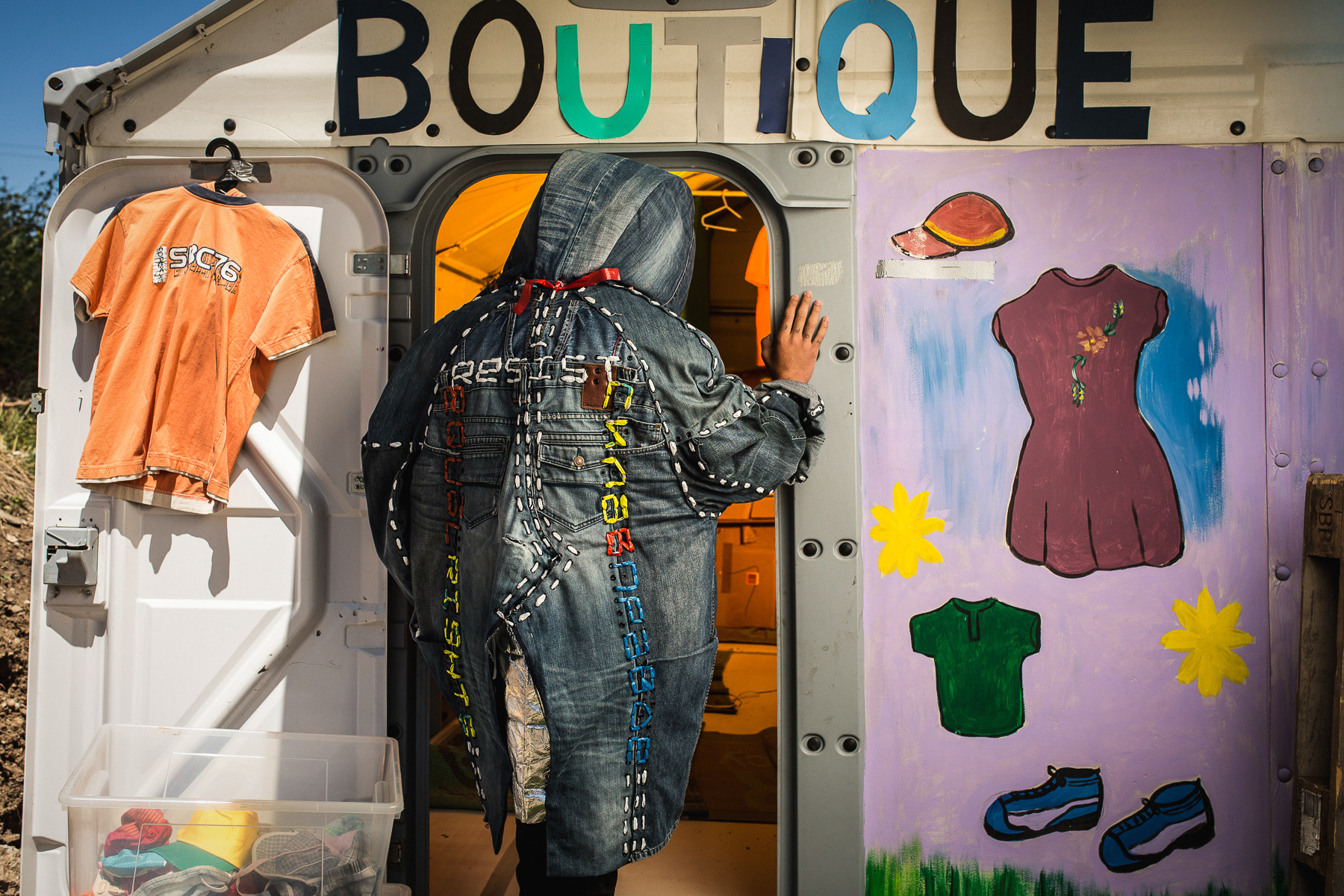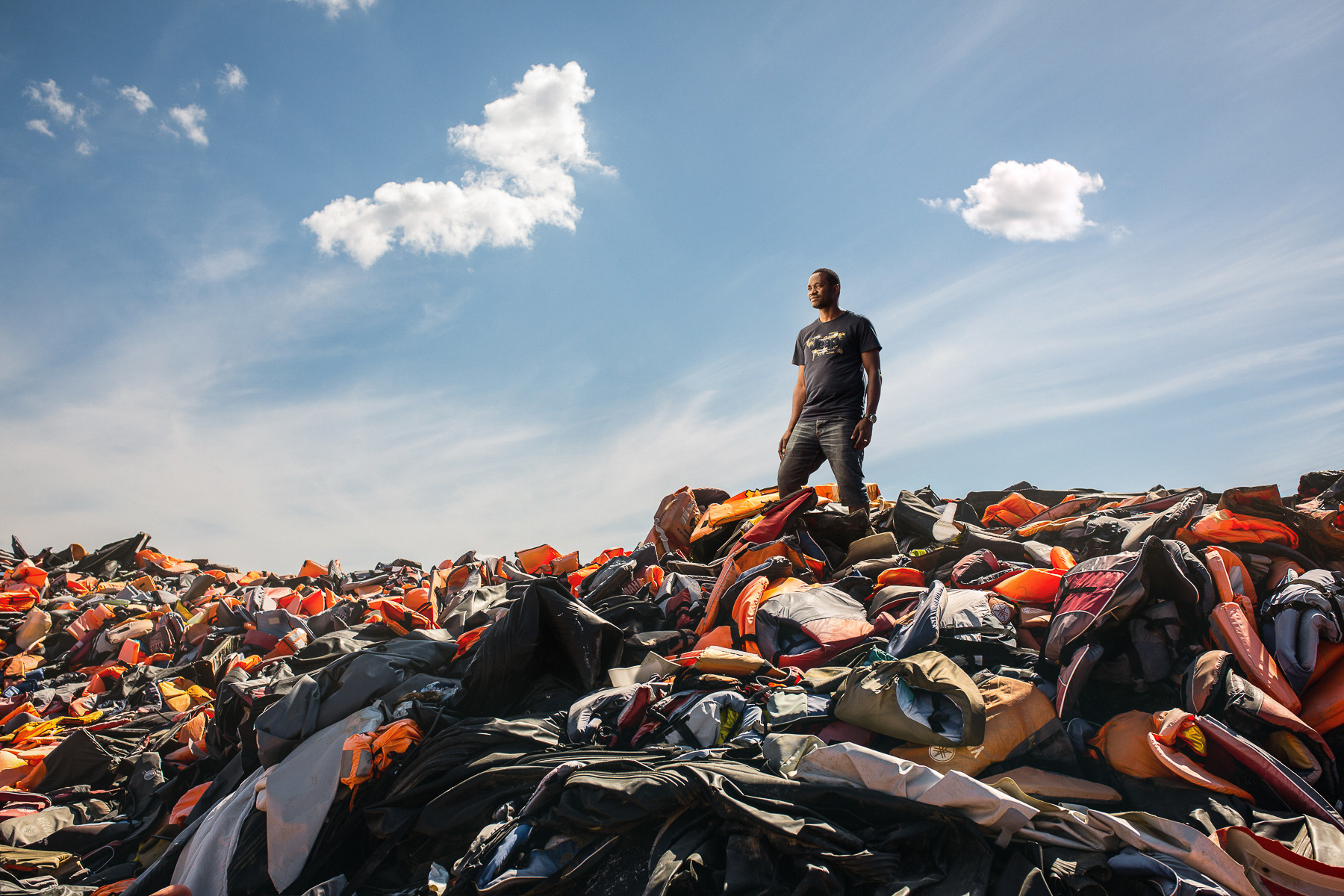 I'm a designer, I make clothes for men and women. I started to work when I was 13 years old. I left Sierra Leone in November and I stayed in Turkey for one month. I couldn't do what I love in Turkey so I decided to move forward. I took a boat to Greece at night on the 18th of November.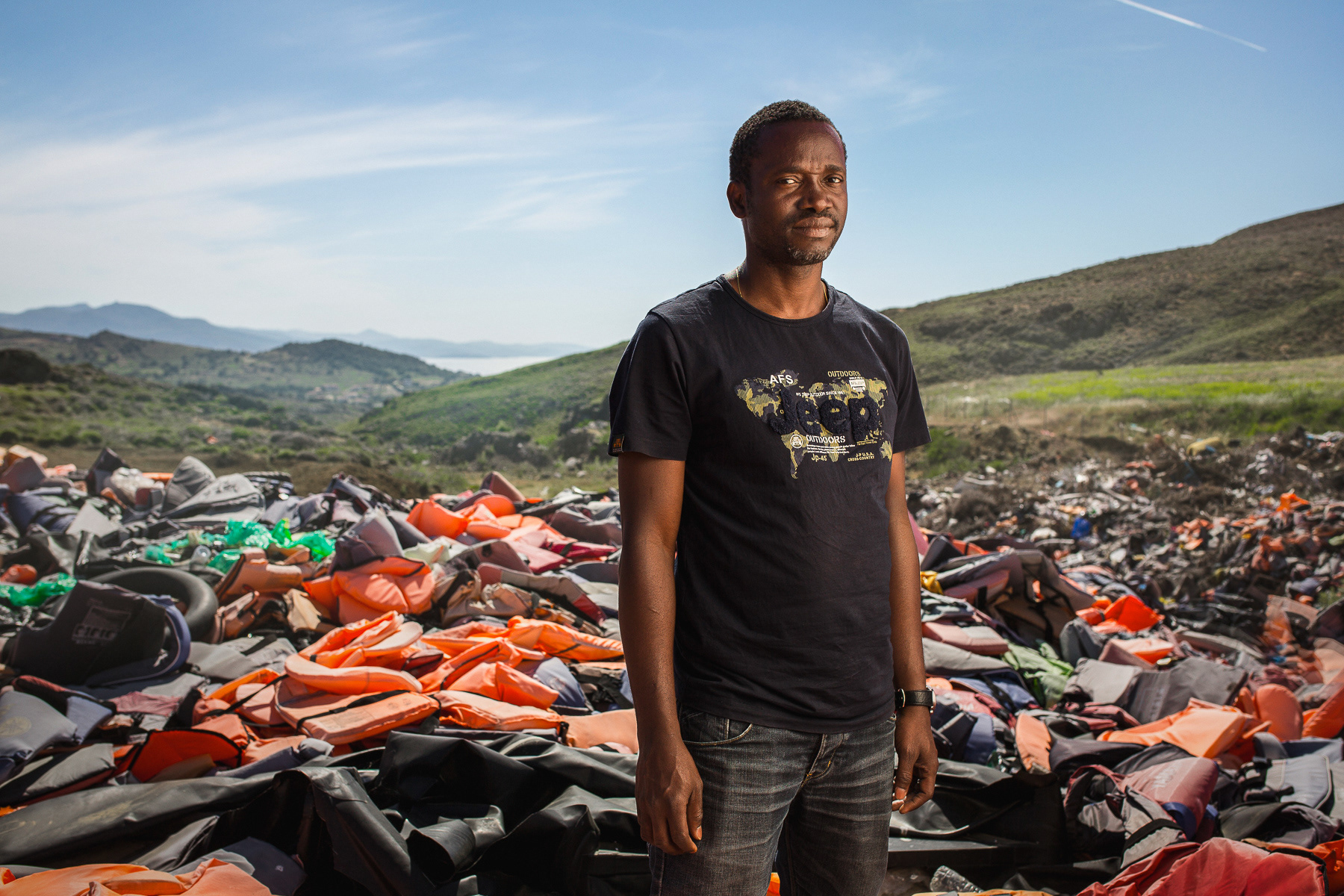 The journey was not good. No one will be happy to take that boat during the day or night. It was like being between life and death.
It's not good for a human being to stay in Moria camp. When we arrived hundreds of people were sleeping on the road at the entrance of Moria, because there was no place inside and more and more people kept coming. Lots of people were sinking in the sea and lots of people were dying at the camp.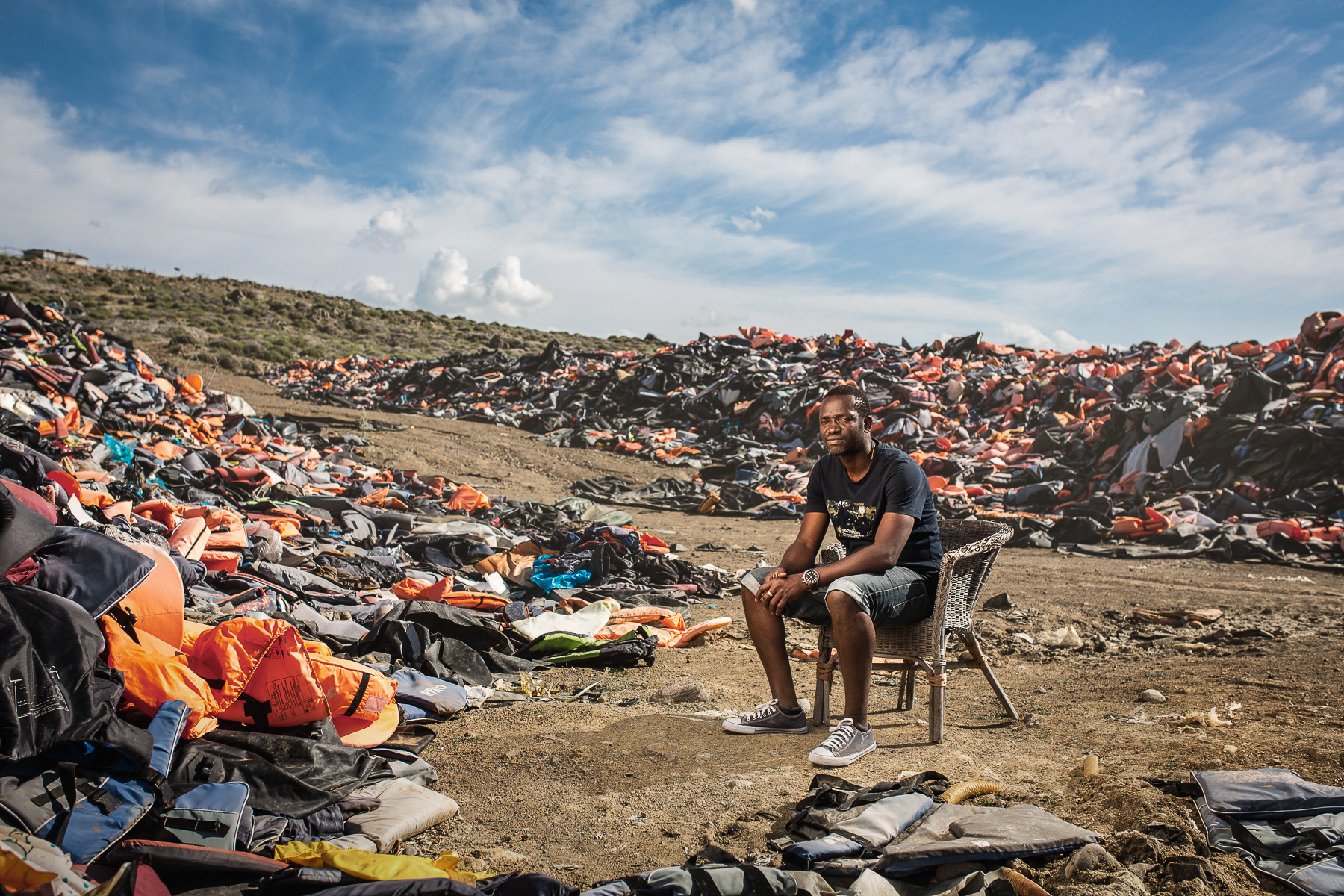 Life in Moria is not good for any human being, because the police and the European people treat us like slaves.
When the Community Center opened a month ago they got two sewing machines and I started to sew there. I sew because I love my job, I can't just sit doing nothing. I also teach others how to sew.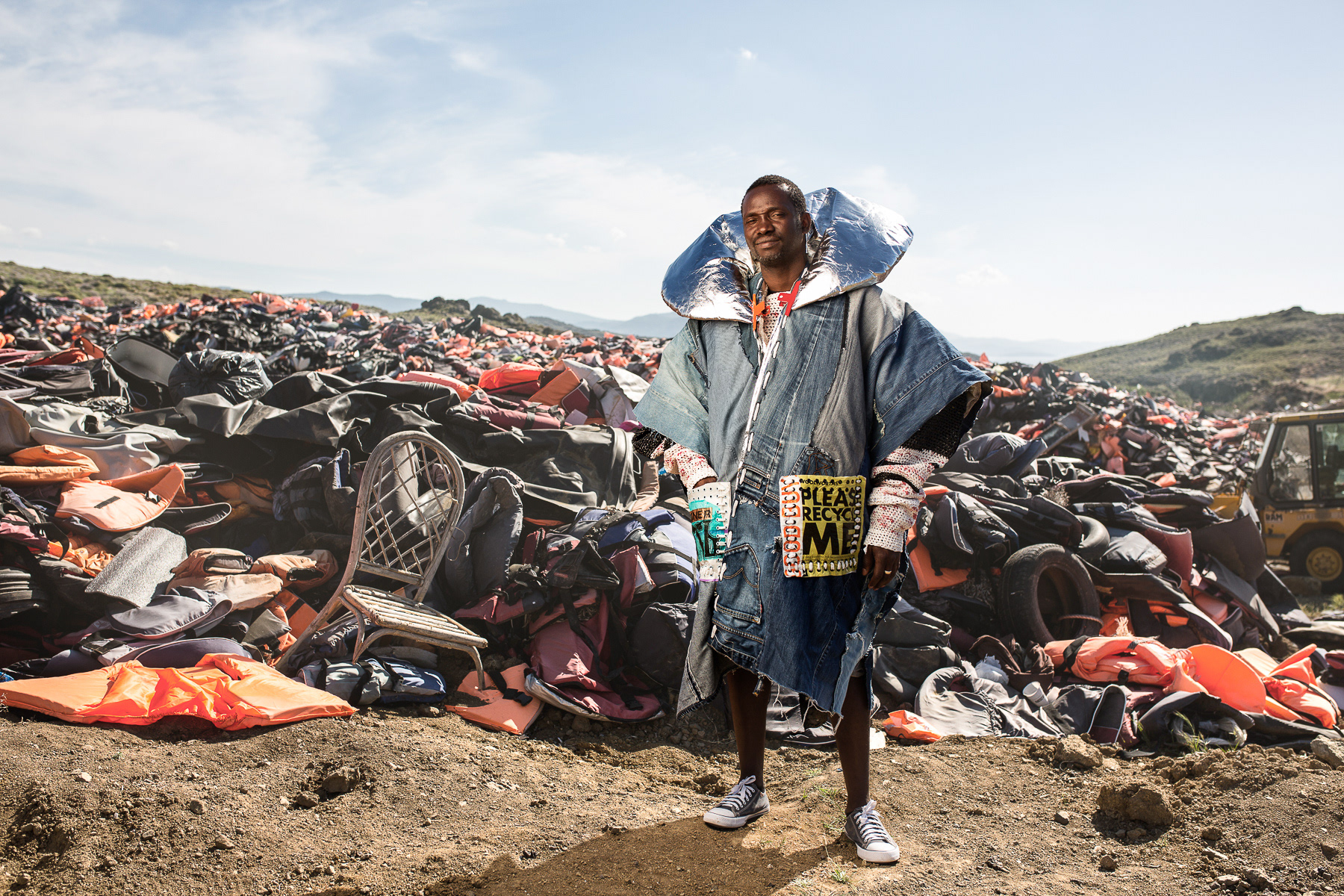 KIMONO:

used jeans, plastic bags, thermal blankets.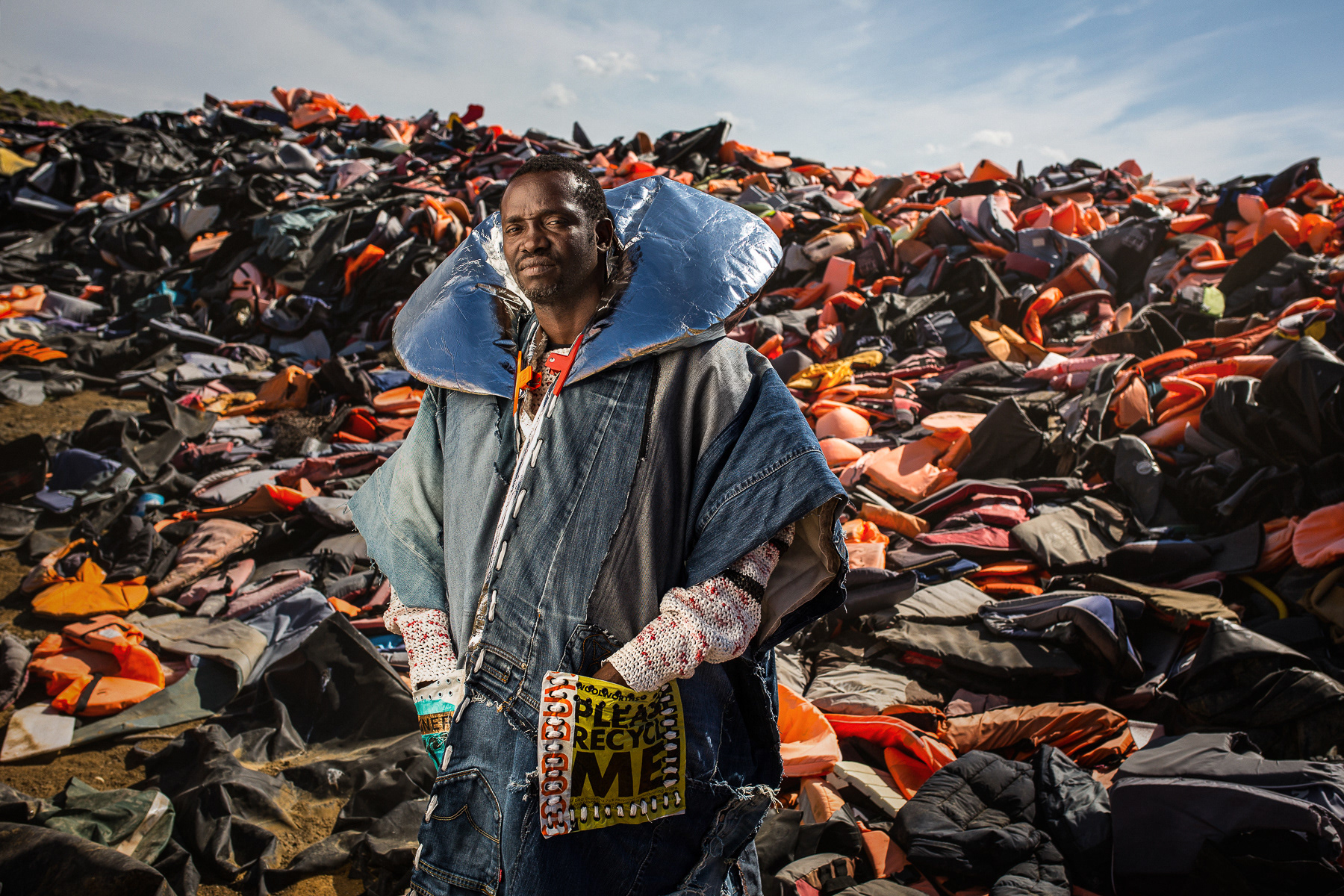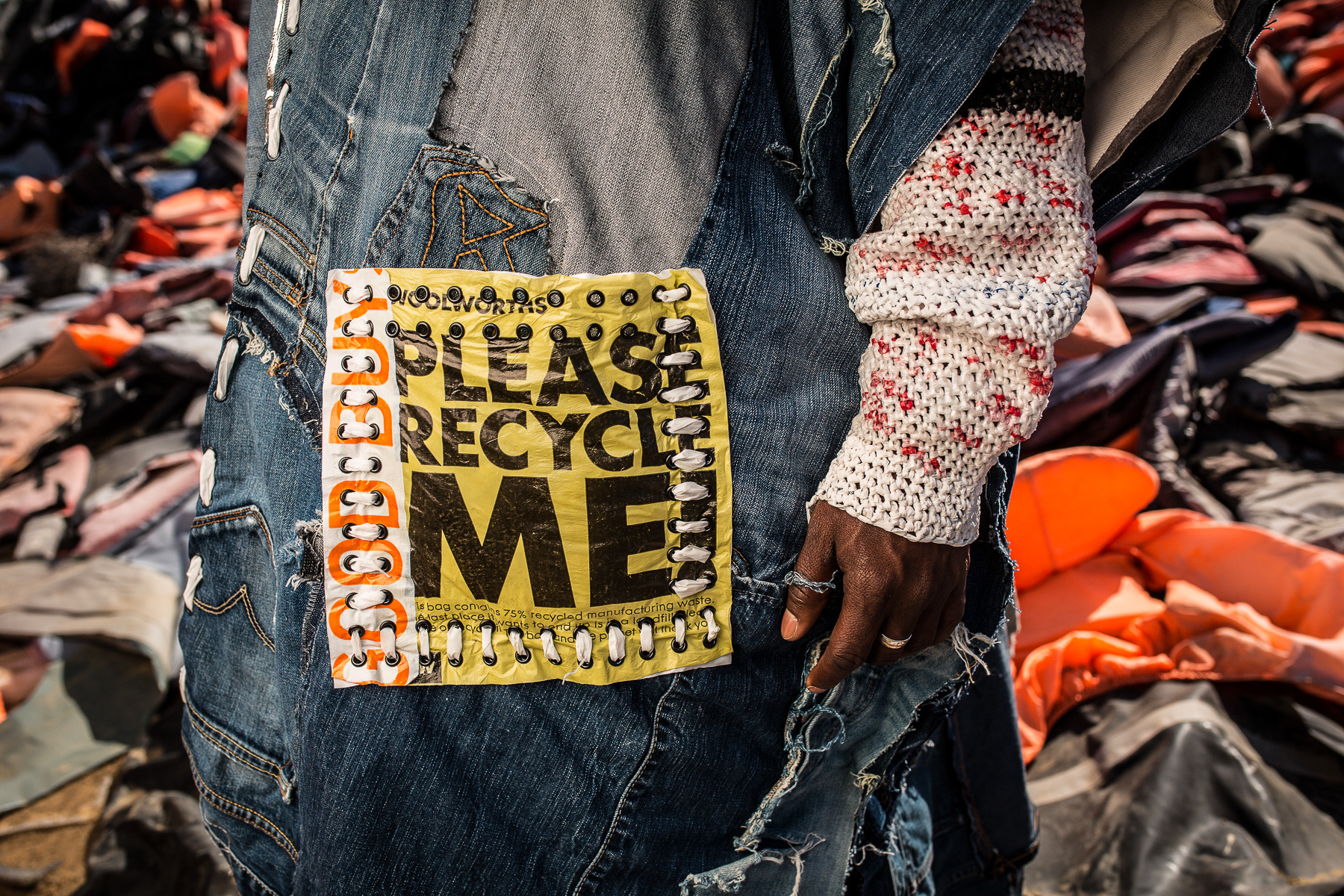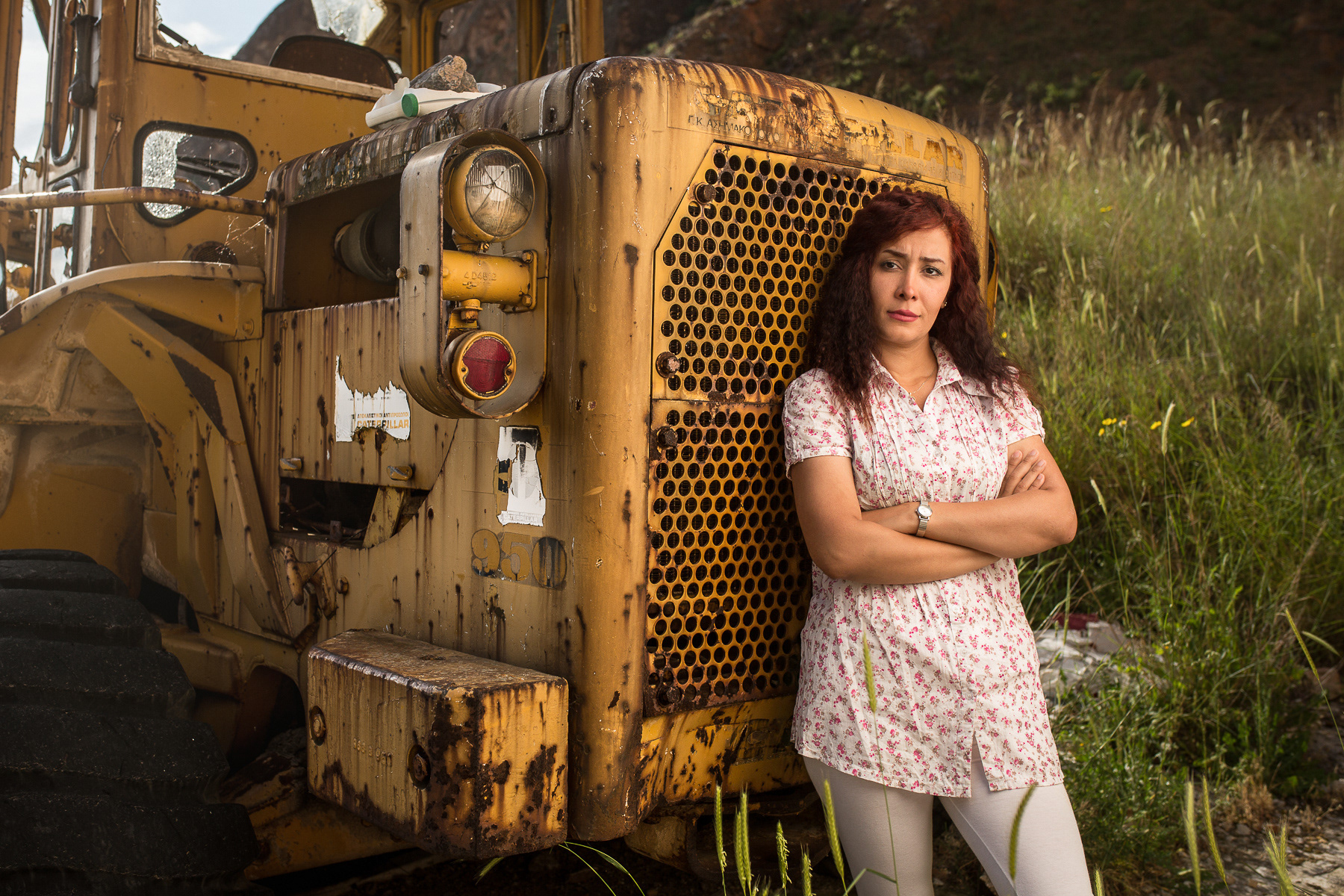 In Iran I worked as assistant manager for a carpet company for 17 years. It was good. 
I had a good salary.

My auntie lives in London. She came here one time to visit us and brought everything like clothes and some food. She sends us money sometimes because our money is finished.

My future husband was arrested and put into jail for participating in The Green Movement [a political movement that arose after the 2009 Iranian presidential election, the protesters
believed the results of the election were fraudulent]. He had to leave the country and lived in Guangzhou, China.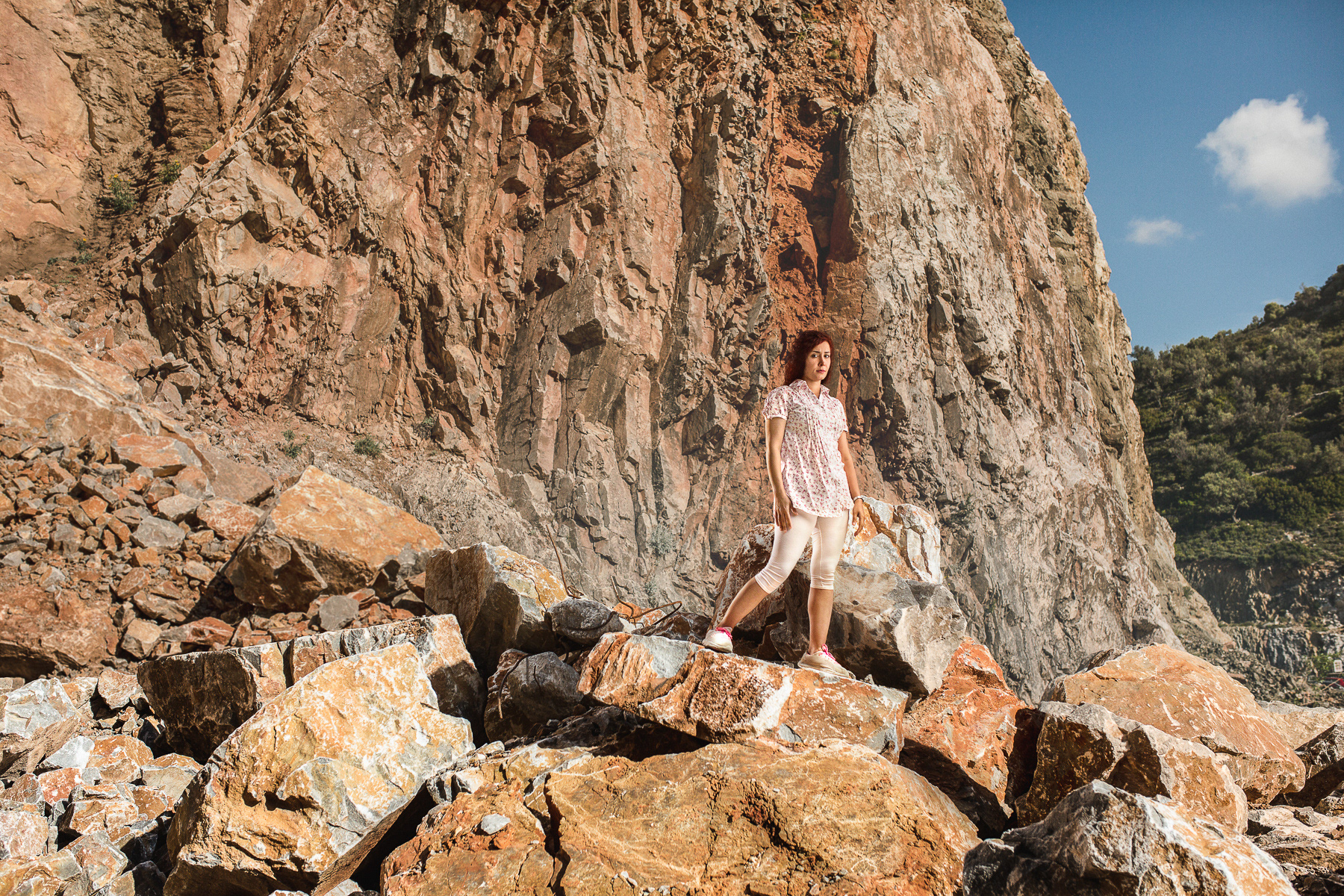 After 8 years he returned to Iran to marry me and was put into prison again for 6 months. His farther paid a lot of money for him to be let out for 3 days. We got married and ran away to Turkey. It was very dangerous to run from Iran to Turkey. My husband had to cross the border illegally in the mountains, it took 14 hours.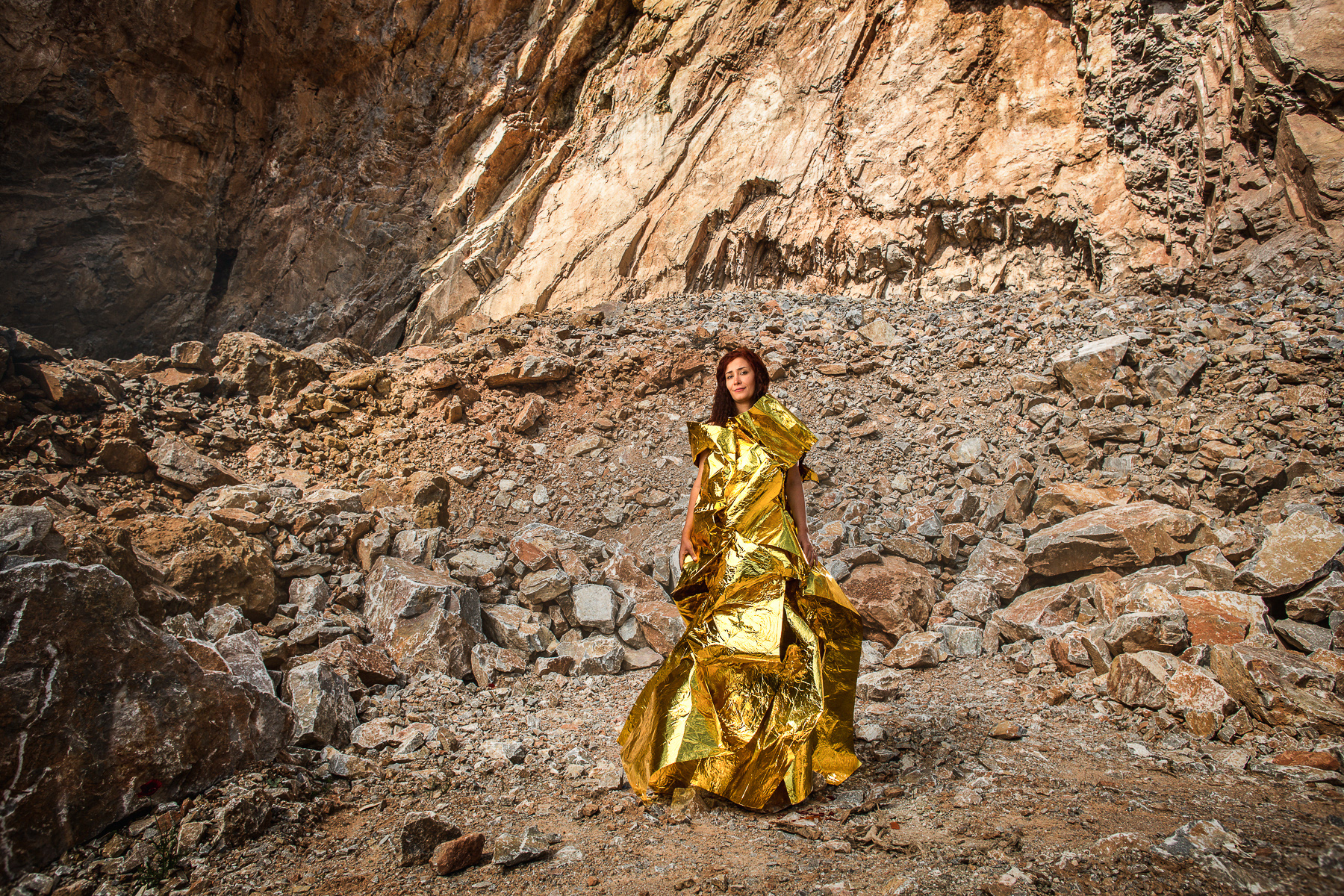 From Turkey to Greece we crossed on a small boat, it was very dangerous, because I can't swim very well. There were around 40-43 people in this small boat, that boat is good for 14 people, but 43… And the boat from Turkey followed us, making waves, five times... That was very dangerous.

My auntie lives in London. She came here one time to visit us and brought everything like clothes and some food. She sends us money sometimes because our money is finished.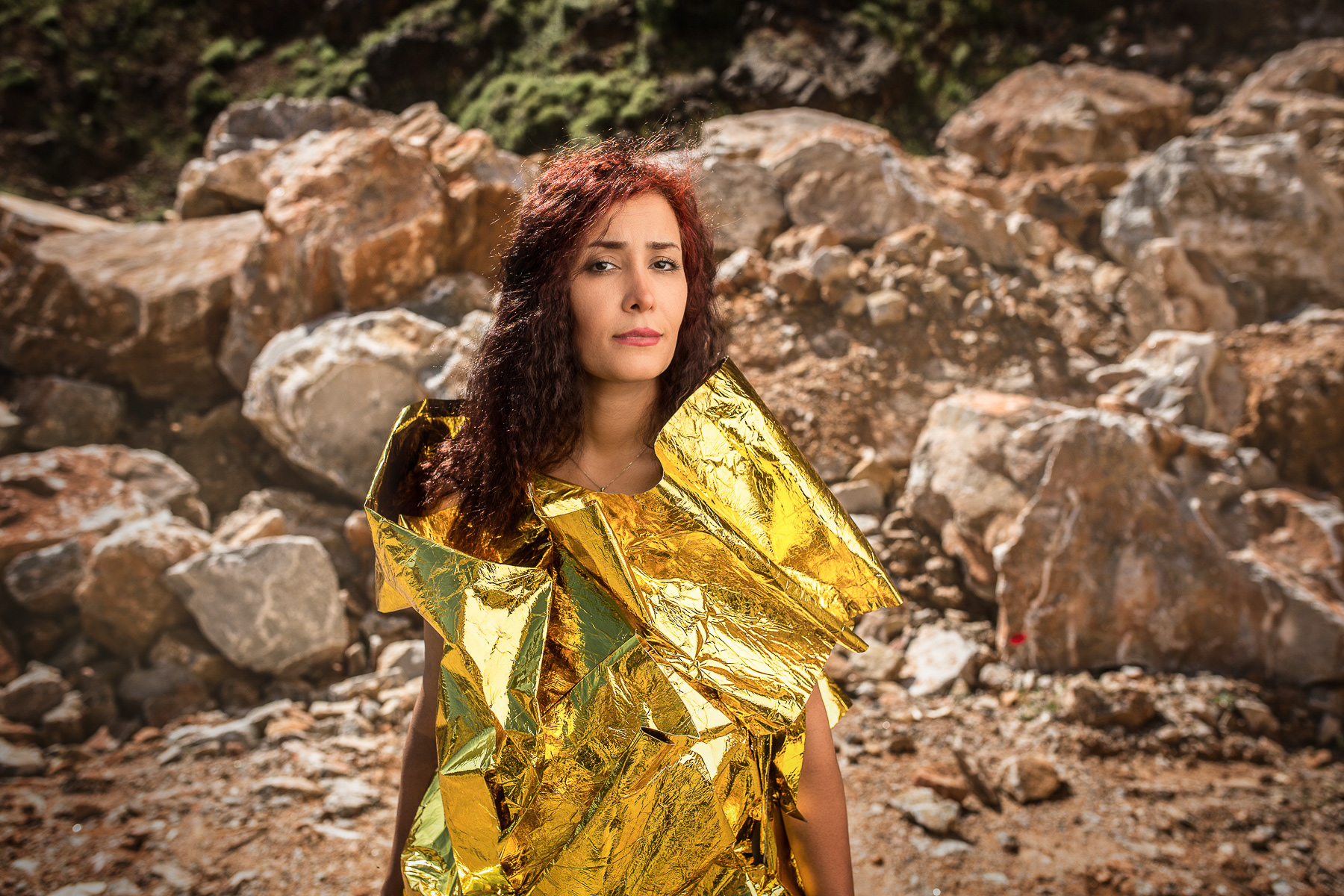 The modern world is extremely scary. There are wars, climate change, financial crises, new diseases and a refugee crisis as a result. It is very hard to cope with everything that is going on. It is very hard to fight the fear for your own well-being in this ever changing world. And while some people find their way to cope through helping others, volunteering for the ones in need, sharing their homes and fighting fear, others choose to concentrate on protecting themselves and their families from the possible bad things which the world can bring to them.

Today many people are forced to leave their homes in search of a better life, safer places of living, better environment, and better jobs. They pass through a lot of terrible things in hope to start over at a new place. But people who happen to live in a safer area are scared that the arrival of newcomers will harm them. That the newcomers will take their jobs or make some terrible things. But there is always a choice whether to lock yourself in fear or to come out and try to help. There are two ways of reacting to this scary reality – try to isolate and protect your own family by all means or try to help solve the issue by stepping out and acting.

Recent political events have shown that there is a tie between these two ways. British people have chosen Brexit with 52% of votes. Trump has won the election but lost the popular vote, which means that more than a half of US citizens voted against him and his policies. At this point people have chosen their own safety, racial and gender stereotypes over equality and generosity. But the difference is tiny and there is a hope that it will change soon. And the change can be made by small steps towards embracing the most human trait – empathy.

Liya IVA with invaluable help of Kirill IVANOV
Ilya NODIA
Fridoon JOINDA
Sonya DUKHON
Alexey VOROBIEV
MADE POSSIBLE WITH THE HELP OF THESE AMAZING HUMANS:
Angela LUNA
Anna TSYKUNOVA
Cookie ARNOE
Darya DANUSHEVSKAYA
Fabian BRACHER
Fardin JOINDA
Jalal JOINDA
Maria JAHNKOY
Maria LUNEVA
Nicos CHATZILIAS
Olga POTEMKINA
Petr VYAZOVETSKY
Sam KAHN
Sara SHERMAN
Tatiana FINN
Laria MAYKOVA
Lilia KOSYREVA 
Marea SERGEEVA
Martin DECHEV
Masha RADLOVA
Sonya TIHONOVA
Zoya RADCHIK
'ONE HAPPY FAMILY' Community Center